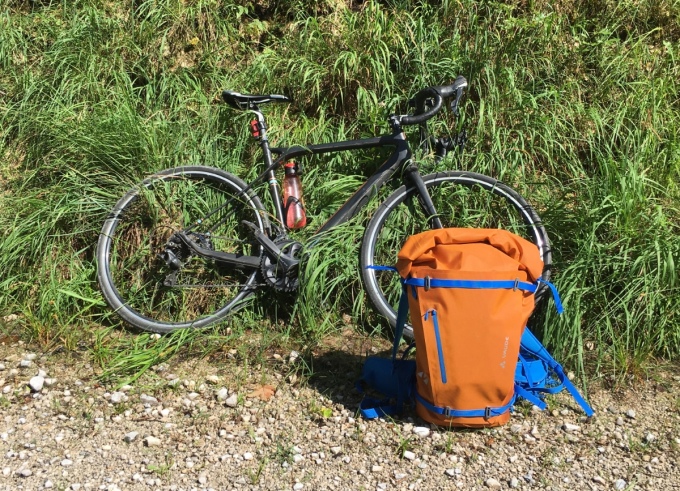 A day out on the gravel in the Austrian Alps.
VAUDE have always been renowned for their design sensibilities and the Proof 28 does not disappoint on this front at all.

A heavily engineered rucksack that is built to last. With a roll top and HF welded seams that ensure that this rucksack remains 100% waterproof. The rucksack is also manufactured in line with VAUDE's Green Shape initiative that ensures it meet high ecological standards. Every stich and seam is well finished, with no loose ends or untaped edges.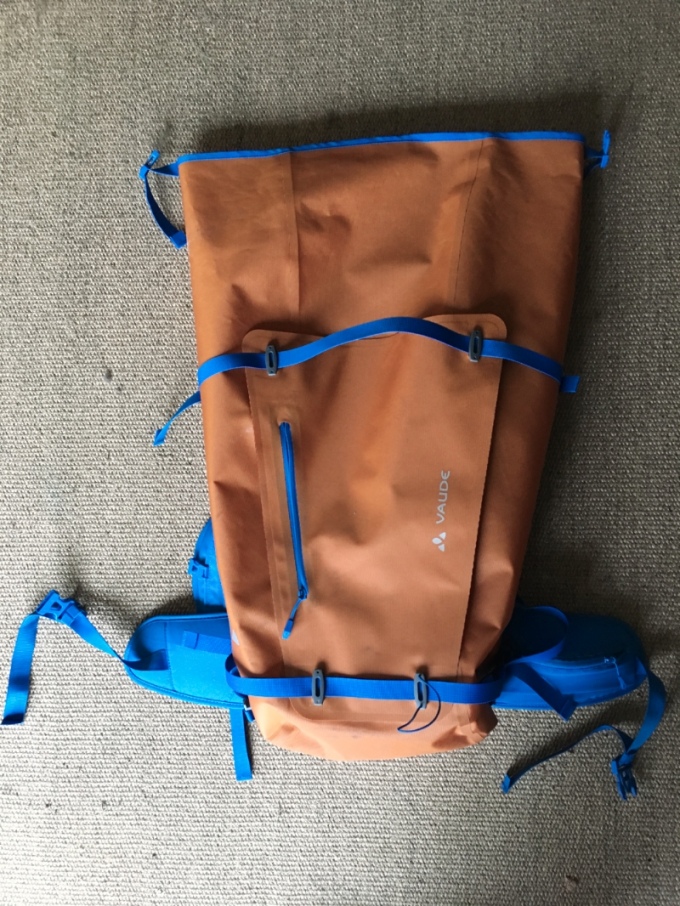 The front, with external zip pocket, waist band pocket, helmet storage and reflective logo.


The internal custom compartment that is designed to carry laptops and other items that would regularly be used for work, push this rucksack's more likely use type into the urban environment. Creating a sense of safety and protection around carrying expensive electronic equipment whilst cycling or walking. An easy to use laptop slot comfortably fits my decent sized laptop into it.

Handy pen slots and zips accommodate all you'll need for a day out working or having fun. The external zip is handy for keys and other small items that you might need access without wishing to open the full bag. The outer compartment has a gap between it that's designed to allow you to drop your helmet in there when not wearing it. Very handy. There's also the usual zip pocket on the waist band strap.

The rear mesh on the back lifts the rucksack off you back during use, to create an air pocket on your back and avoiding the usual damp patch that develop on your back when commuting with a reasonably heavy bag.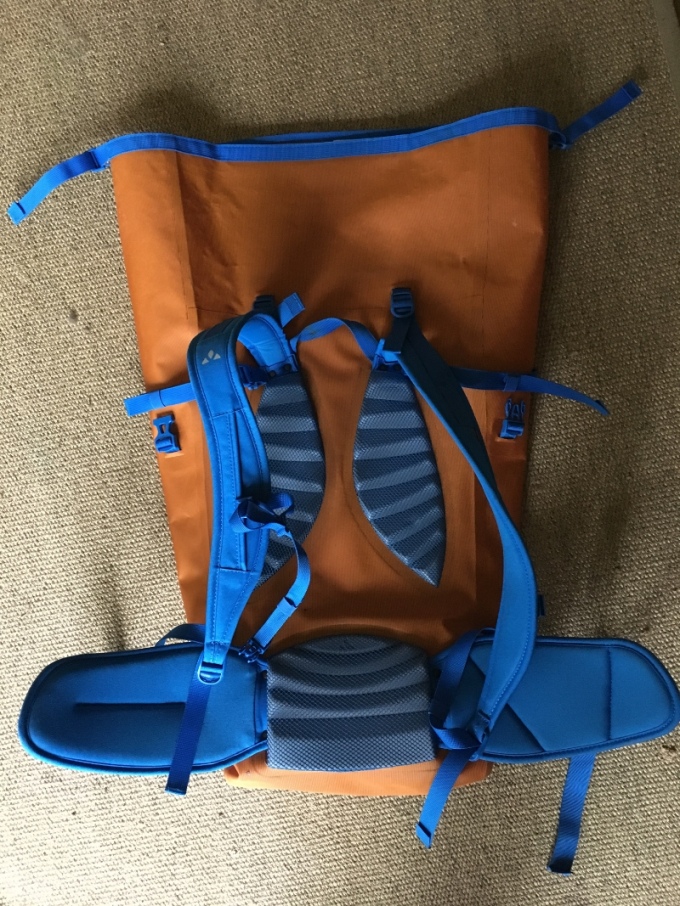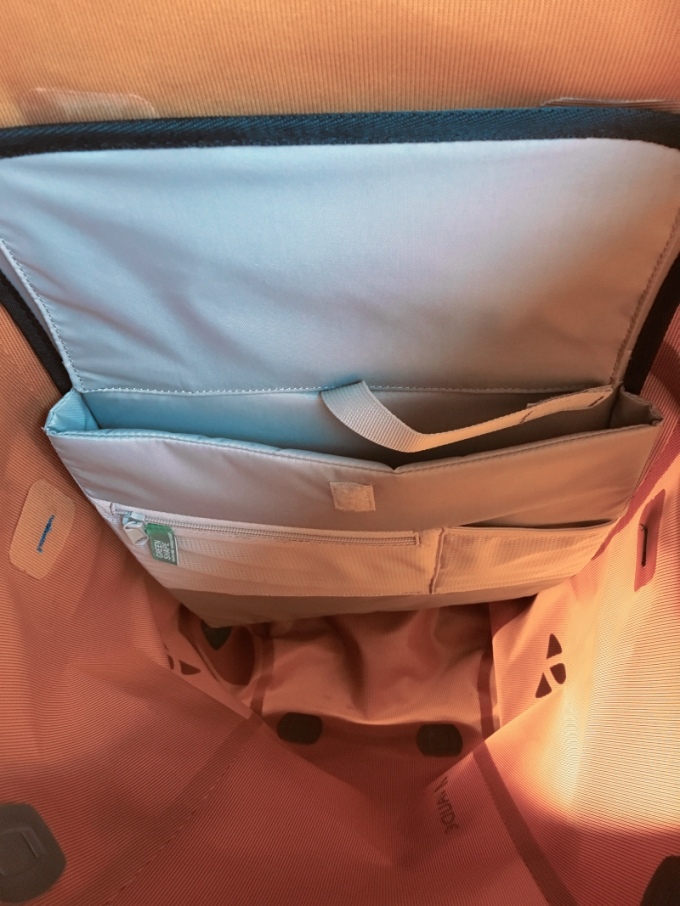 Rear and internal view, meshed back supports, roll top. Internal laptop compartment.


The clips that secure the roll top of the bag together are made of a strong durable plastic that doesn't feel like it has that brittle nature you often get from clips on those types of fastening devices, that only take one accidental foot tread and they need replacing. There's a helpful chest strap that holds the bag in position when riding.

I did find at times when using the bag with it relatively full, that top of the bag would interfere with the back of my helmet when riding on my dropped bars. But this is a challenge that you often encounter when using rucksacks when riding bikes.

Another minor gripe, is I wish it had more reflective material on it. Both the brand ident and logo are made of reflective material on the back, which is good, but I think it could have handled a little more. Why all cycling designed clothing and accessories don't have more reflect materials as an absolute requirement I don't know, it seems essential to me.

All of these great features aside, I guess this is where my challenges with the rucksack start…

It feels this rucksack has been designed with too specific a use case in mind. I now I find myself in a conundrum. My day job is to encourage people/brands/organisations to discovered user needs through research and then ensure those needs are met through the products and services that they deliver, and this bag delivers on its design use case.

However, most of my outdoor kit needs to be multi-function. We only have so much space to carry stuff on our trips and a rucksack needs to good for running, as it is for hiking, as it is for biking. When I first got this rucksack, I was working for a few days in Bristol and sleeping on a friend's floor. I'd run into work each day with my laptop, down the river, through the park. After a few kilometres this bag was rubbing all over the place. The mesh that lifts the bag off your back whilst cycling spent the entire time slowly lifting my t-shirt up my back. The straps that we're durable and tough, spent most of the time rubbing my shoulders. I tried to establish if there was a way that I could remove the laptop section to reduce the weight, but it's well and truly stitched in, in a really reinforced manner.

These are my issues and I'm aware that they are likely not shared by many more.

So, I guess my final view of this bag is that it's a truly well manufactured bag that is designed and engineered to carry all you need for a day in or out of the office when cycling commuting or walking. However, due to its design focus on this use type it doesn't always make the cut on lightweight trips I do, when lots of kit needs to serve multiple functions.

That said, it does usually make the cut for our Summer family trip in the van, that usually includes several days in the saddle. I don't love love this bag, but I do love its design focus and engineered construction, and its green manufacturing credentials. I'm sure others that use it for its clear designed intent, day in, day out, will love love this bag.
More info on the bag on the VAUDE website.