Rab 406 Person Bothy (Group Shelter)
Writing a review for a bothy was always going to be a bit of a weird one, as generally it's a piece of kit that you'll hopefully rarely use.
However, whilst this is the case it is also a piece of kit that's compulsory in certain events, one of which I competed in earlier in the year, The High Peak Marathon. So finding out if the kit does the job when needed should be part of the process of packing it in your bag in the first place.
First up, the size, it packs down into a attached bag of about 20 cm long and about 10cm wide. Which given it houses 4 people when occupied, is a good size. It weighs 620g.
It's a self supported shelter, so its sides are kept up by the bodies of the people inside the shelter at the time. It roughly forms a rounded cube when erected/housed.
It has a small window and two small bag like extensions on the roof, which are designed to poke walking poles into to hold the bag above the heads of the occupants.
So how do we test this. Simple. We place 6 small children (under proper supervision obviously) inside it and then spray it with a hosepipe to see if it leaks. It seemed the only way to test durability, rigour and weather proofing in one simple task.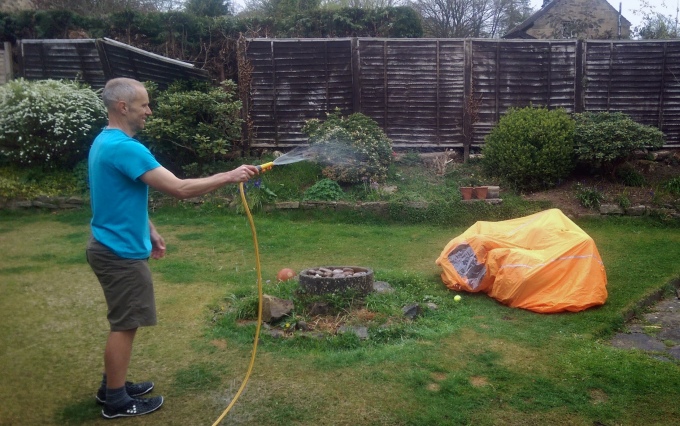 We're pleased to say the shelter survived not only the water attack, but also the challenge of coping with 6 small screaming (excitedly) and wriggling (with joy) children without showing any signs of strain.
If you're needing a shelter to ensure the safety of your party on the mountains, whether they be an elite climbing team or screaming rabble of children, I'd say the Rab shelter does what it says on the tin. Lightweight. Shelter. For 4 people.
Reviewed by Ed Richardson of Beautiful Everything.