Rucksack: Quechua Forclaz 70 & 10 Symbium 4
Despite a rather silly name this pack is a pretty good buy. It's big, though not the biggest on the market, comfortable, packed full of features and pretty inexpensive to boot. My main worry would be that some of the many features will start to fail on a trip of any length. That said, to date it's standing up to the punishment I've given it pretty well. It's also pretty heavy at 2.95Kg, but then so are most big sacks.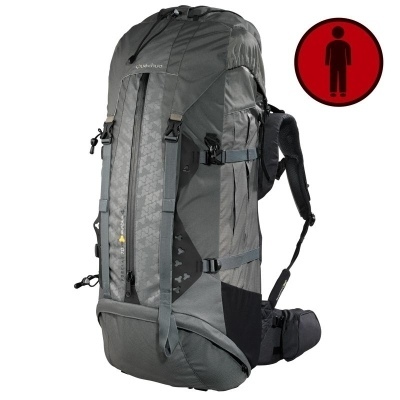 So what of its features? It has plenty of pockets: 1 inside for a hydration pack or similar, 1 on the each side, 2 in the lid, and one on each hip belt! It has a long water-proof and heavy-dut zip down the front of the pack meaning that it can be opened for quick access without having to unload everything from the top. The main inner compartment can be split into two, with access to the lower section via another heavy-duty zip. I mention that these zips are heavy-duty as on an old sack of mine I managed to destroy the bottom access zip and had to have it replaced; accessing a rucksack via these zips when it is fully laden is pretty stressful for the zip – imagine sticking a knife into a sausage and you'll understand what I mean, so doing them up again is even harder! There are two compression straps on each side, one that is fastened with a clippable buckle, the other which has the old fashioned threadable buckle. The latter strap can be undone completely. Not quite sure why the straps differ. There are two drawstring closures to make sealing the sack straightforward, and both are incredibly smooth to operate. Then there's a decent strap and clip to allow the contents to be synched right down before pulling the lid over the top. Finally the lid itself seems to fit remarkably well, with its expandable and elasticated sides nicely covering the sides of the sack – I have another model where the sides are woefully small compared to the sack itself when loaded up meaning there are exposed areas that get wet easily. Oh, there's also a sewn in rain-guard in a neat pocket at the bottom of the sack. I ought to also mention the ice axe attachments and D-rings on the base of the sack for additional stuff to be strapped to it if necessary! Personally I prefer the clippable type as they tend to be less fiddly. The main feature of the sack though, is its comfort. Quechua are proud to announce that the system is the fruit of 3 years of research and tests, guarantees less fatigue and pressure on the shoulders, even when heavily loaded. So far it certainly seems pretty comfortable, with an enormous amount of padding, movement and adjustability. One minor gripe is the plastic clip used to quickly release and move the shoulder straps up and down the back system. It quite easily flips to the down position and sticks into my back, but is easily taped out of the way.
All in all a very well designed and featured sack that's incredibly comfortable to wear, but the features come at a price – weight. If you are after something lightweight for mountain trekking then look elsewhere. If you want a comfortable sack and don't mind the additional weight that comes with it then it's perfect.
As the name suggests, it is a 70l sack, with 10l of extension possible. Costs £99.95
It's not suitable for anybody under 1.65m.