Terra Nova Ultralight Bothy 4
Essentially an emergency shelter this bothy is one of those bits of kit that you may well never use, and you certainly won't want to, but it's useful to have one in your pack if you are out in poor weather or for extended periods n remote areas. If you're unlikely to use it, but you have to take it anyway then it really ought to weigh as little as possible. This one comes in at a very lowly 400g which is pretty amazing given its size. It's single shell of waterproof and windproof material. It's not breathable, but then it is never properly sealed. The concept is to get inside the thing and sit on one of the slightly thicker and more hard wearing black skirts. Sitting on the skirts effectively pegs the thing down, and the 'roof' sits on your head so you are the poles as well. It's not designed to sen the night in, but to use in an emergency when you don't have the time to put up a tent (or perhaps you don't even have one as you were travelling light). There are two vents to help the thing breathe, and also a kind of sleeve that pokes out the top of the roof which is presumably for holding a torch in to aid rescuers to find you. The sleeve material is pretty thin so should glow red. It's big enough fr four people. Small 2-person models are available. Despite the fact that the pack is 20cm by 12cm it is possible to squash it down a fair bit smaller than that. Despite never having used it in a real emergency I have used this bothy as a make-shift bivvi bag (there was a fair degree of condensation on the sleeping bag and the inside of the bothy in the morning, but it serve its purpose), and a warm lunch stop during a hail storm whilst doing Crib Goch on Christmas Eve with my family. I've also seen them used as spinnakers whilst kayaking, and on a small ledge half way up a 1,000m cliff face in Southern Greeneland. A pretty versatile piece of kit. Retails at £120 which is admittedly a chunk of money to pay, but if you want light weight then you can't really do any better.
Weight 400g
Pack size 20cm by 12cm
Terra Nova Website | Facebook | Twitter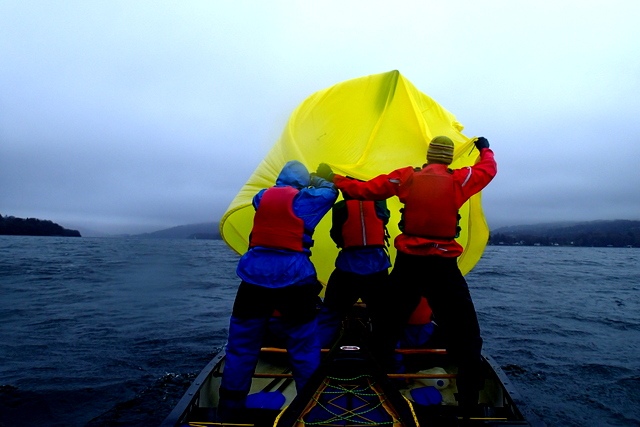 Using a 2-person bothy as a spinnaker in the Lakes in February. Worked very well!