The North Face Single-Track GTX XCR Running Shoes
Most of the running I do is off road, and when I say off road, I mean wet, muddy, tussocky, snowy, damp, boggy, rocky, and did I mention wet, as opposed to nice dry and even trails. However, occasionally, as now, we get a prolonged spell of dry weather, and there's no denying that getting out on forest trails in these conditions is a real joy. Aside from that I do run on the roads from time to time. I've been using these shoes on both for the past few months and can now report back.
Weighing in at 584g (for the pair!) they're relatively lightweight. OK, so they don't compare with my minimalist style slippers, but that's hardly a fair comparison. Compared to a pair of rugged Approach Shoes they are definitely on the light side. A good job as road and trail running is generally about speed and that equates to distance, and the numbers add up pretty quickly if you consider the fact that you are saving perhaps a couple of hundred grams every metre and a half over perhaps 20km (that's 2666Kg!). Anyway, you get my point. Aside from being light they are also very sturdily built – I can see them lasting many years. The tread, as you will have gathered from the initial comments about only using them on trail and road, is pretty minimal. It's not exactly slick, but I am now used to 10mm rubber spikes on the bottom of my shoes, so these feel very low profile in comparison. I've probably run a hundred and fifty miles in them and they are showing no signs of wear and tear, I've had no blistering, and can say that they are very comfortable. On the occasion that I have been out in them in the rain, or been caught out in wet conditions my feet have stayed dry – this is important to me as I hate running in wet shoes (apart from the discomfort it adds a load more weight to the each stride that you have to carry for the duration of the run.
They retail at £110 which is par for the course for a pair of decent running shoes. Given the sturdy construction I'd say they will last a lot longer than many other shoes out there on the market so represent good value for money.
I'll be running a 10mile road and trail race in them this weekend so wish me luck!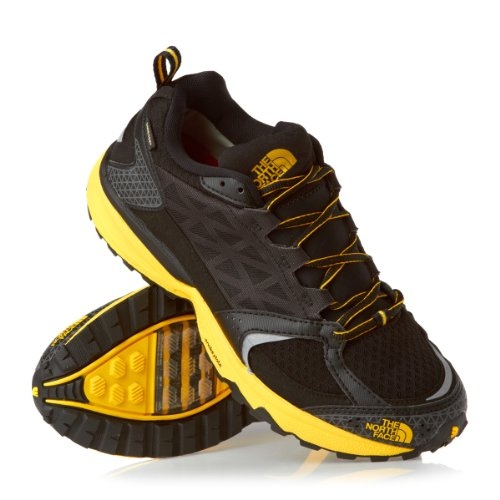 The North Face Words:
Features:
Shoe Category: Trail
Ideal for: Trail running
Weight: 584 grams (pair)
Lightweight, waterproof training shoe
GORE-TEX Extended Comfort Range waterproof, breathable membrane
Tongue screen collar
Abrasion-resistant tight-weave mesh
C-Delta metatarsal fit system
OrthoLite Northotic footbed BOTTOM
CRADLE heel-cushioning and stability technology
Dual-density, compression-molded EVA midsole
Tenacious Grip sticky rubber outsole
TPU Snake Plate forefoot protection
Sturdy construction and resilient support are among the hallmarks of The North Face