Helmet: Quechua Bionnassay (Decathlon)
This helmet is designed for climbers, mountaineers and regular cyclists. It retails at £29.95 from Decathlon. We had a size small to review, so it became and cycling, climbing and scootering helmet for our 5 and 6 year olds to try. It is a great design with a nice comfy head band and cushioning inside. There are 12 air vents, making it nice and cool in hot weather. We had no complaints from the girls of it being itchy and wanting to take it off, which we normally get!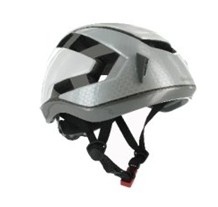 Adjustments are made easily with a small plastic wheel. There are slots for you to attach a head torch to it. The helmet is very lightweight (the small size weighs 210g and the large 305g). It would be nice and light to carry on a rucsac whilst walking into the crag or mountain.
It's only available in grey/white, but it's a nice colour scheme. It was slightly small for me, and in some ways I was glad (!). Whilst it looked ok to use for and adult to use climbing/canyoning etc, I think I would have felt a bit daft in it on my mountain bike. It just looks a bit 'round' for cycling. Perhaps better for someone in their teens or twenties- or perhaps I'm just out of touch with style?!
Our children now fight over who gets to wear this helmet, with neither of them wanting to go back to their Winnie the Pooh ones, so I guess it's off to Decathlon to spend £30! It feels quite expensive, but if it can be used for all kinds of sports, and will fit them until they are in their teens, then I think it's worth it.