Review: Petzl Pichu Helmet
It's a difficult enough adjustment to make as it is, having kids. Spending 'proper' money on their kit is a difficult choice. You want the best for them and you obviously want them to be as safe as possible, but you know that they will a) grow out of it in a jiffy b) break it, or c) forget / lose it even more quickly! I was pretty chuffed then when Petzl came up with the Pichu. It's not the first helmet on the market aimed at both cyclists and climbers, or more importantly, kids who do both, but it is one of only a few.
Retailing at around £35 it's priced just within what I would feel comfortable spending on my kids (bearing in mind the above reasons). It's colourful (important!), comfortable (even more important), adjustable, and comes with a vry sweet little red led light to put on the back (pictured below) of the helmet in case you get caught out on the bikes at dusk or even in the dark. Thankfully it's an led which means that even with all the inevitable playing and fiddling, the batteries still work when they are actually needed ;-)
I particularly like the fact that it comes with a 3 year guarantee. It has to be said that Petzl are very good on product guarantees. Oh, and it also comes with some stickers which went down a treat. Definately recommend getting if your kids climb and cycle.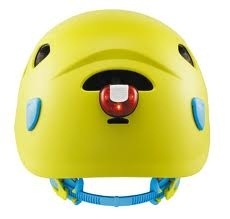 Here's the blurb from Petzl

The PICCHU helmet is designed for children who want to rock climb or cycle. It is very light and comfortable and constructed for durability. For night use, the PICCHU has a mount on the back of the helmet specially designed for attaching the SiGNAL red signalization light (included). Three pages of stickers, with one reflective page, are included so that the helmet can be personalized and made more visible.
Helmet meets multiple standards:
- Climbing (CE EN 12492 / UIAA)
- European cycling (CE EN 1078)
- United States cycling (CSPC safety standard - cycling helmets for five-year-olds and older)
Specifically sized for children between three and eight years old (48-54 cm headband)
Rear mount for SiGNAL red signalization light (included)
Delivered with a page of reflective stickers to personalize the helmet
Side openings for ventilation
Injection molded ABS shell is both lightweight and durable
Expanded polystyrene liner absorbs impacts
Adjustable chinstrap, nape height and headband for an extremely comfortable fit.
Chin strap position adjusts forward or backward and redesigned side-release chin strap buckle is positioned off to the side for comfort
Narrow polyester webbing straps offer improved comfort.
Specifications
3-year guarantee
Sizes: 48-54 cm
Weight: 310 g
Materials: injection molded ABS (shell), expanded polystyrene (liner), polyester (webbing straps)
Colors:
- cherry red (A49 CH)
- apple green (A49 AP)