Introduction
We'd been meaning to upgrade our now 7 (then 6) year old's bike from a good, but not geared, bike for too long. We're keen cyclists and we wanted to get her a bike that would allow her to join us on longer rides as soon as we could. Friends had pushed on to the popular Isla Bikes, but being the internet review junkie that I am I was keen to take a look at what else was out there. We found Frog Bikes.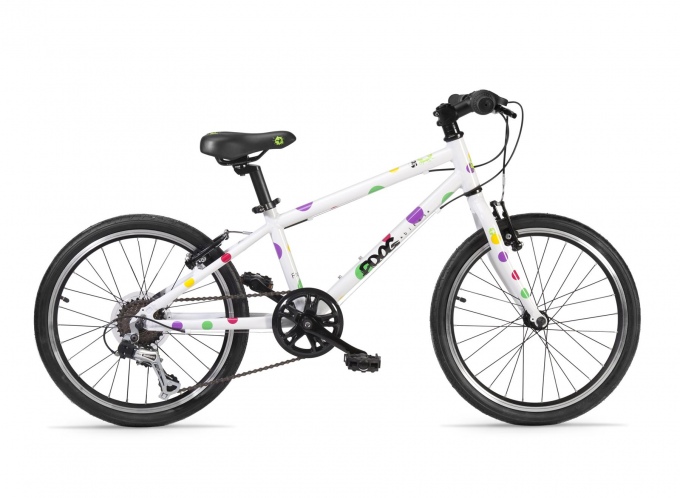 Sizing
We selected the Frog 55 bike, this was a size larger than recommended following the sizing guide on the site. As well versed parents we focussed on getting some value from the bike before they grow out of it rather than perfect fit and paid no heed to the professional advice and this paid off.
Delivery / Building
We purchased the bike directly through the Frog website, when the bike arrived it came part constructed to allow for flat delivery, so you need to be prepared put together a few of the parts. Nothing too taxing though and simple for anyone with the ability to use a screwdriver and a few allen keys, but worth considering
Once constructed we were glad that we'd gone for the larger bike. Whilst our daughter was unable to touch the ground on both sides initially, within a few weeks she was easily able to do so and several months later we were wondering if we could get a longer seat stem!
Build Quality
The construction was good and components of a very similar quality to the Isla Bikes, Shimano generally rather than SRAM. Frame finish and build all looked good and she was happy with orange colour. However there was one minor issue with the finish, the bottle cage boss was unfortunately not properly welded to the frame which meant the rivet kept turning in the frame when you tightened the bolt. As she doesn't use a water bottle (uses a small Camelbak instead) this isn't a major issue, but a quick search on the internet lead me to believe this wasn't an uncommon issue and there were a few fixes out there. I still haven't got round to fixing this, but a bit disappointed it was there in the first place.
Child Specific Features
When first on the bike, we could see the benefit's we'd expected of moving to a "proper" bike. Our daughter was away, hills no longer a problem and using brakes properly on a bike where all the components have been designed specifically to fit smaller hands and fingers.
Now down to a few specification considerations.
The Frog bikes use a shorter rear derailleur than the Islabikes, which comes in handy often, as no matter how many times you tell them not to leave their bikes on the floor (or if they do, making sure they are the right way round) they do and the derailleurs can get bent when left with any weight on them. With the shorter derailleur this isn't as much of an issue. Not really resolving the issue of teaching your kids to look after their bikes properly, but reducing the possibility of having to pay a visit to the local bike shop for a minor repair.
There's a weight difference between the Frog and the Islabikes with the Frog's coming in at a kilo more than the Islabikes. Whilst I'd rather the bikes were equal in weight, the Frog is so much lighter than so many other less well designed bikes on the market that I haven't had any complaints with the weight of the Frog and it makes no noticeable difference with the kids.
Now for a consideration that we've discovered on the bike that does effect how the kids ride the bike. Whilst the front chain ring is advertised now (it may have changed since we got the bikes) as having 32 teeth, both of our bikes have 36. While this doesn't affect most standard urban riding, in fact it could be seen as an advantage, the sort of stuff we drag them round (off-road trial riding or relatively hilly road riding - poor/lucky kids!) it can hinder them against their friends on their Islabikes. Their friends will be spinning their legs whilst we'll be tell ours to "dig deep" and "find the power" as they need to push a little harder, we're currently thinking of buying a new chain ring for our 5 year old's bike to help out.
Finally it's a minor point but worth considering, when trying to persuade kids to get on their bikes, that the colours are generally brighter than the Isla bikes, although I have noticed that Isla themselves have updated their range now to brighter colours (perhaps in response to the Frog bike's success).
Summary
We've not got round to moving our kids on to their next bike yet, but it's only around the corner for our oldest, but when we do I'm sure we'll get a good resale value (one of the other benefits of the Islabike).
All things considered I'm very happy with the Frog bikes and it's taken our kids cycling on leaps and bounds; we must be happy as we bought another Frog bike for our younger son. I'd recommend the Frog bikes to anyone else, but I would get them to check regarding the chain ring size depending on their requirements.
The Frog 55 retails at £255. More info is available here on their website.