Sadly these babies arrived the day after the last snow of the season melted (surely there's no more to come?) so I haven't given them a true test and won't do so for some time. However that hasn't stopped me trying them out and I reckon I have a pretty good idea of what they are like. I'll also write a follow up review just as soon as I have had the chance to test them out in the snow.

The desire to try them was borne out of too many long runs this winter in deep, wet snow covering semi frozen bog. Even wearing waterproof socks, after an hour or so of such conditions, my feet begin to go cold. By the end of a 3 or 4 hour run they are completely numb and running is not only a bit painful, but it's awkward too; without any feeling in my feet my whole gait changes and form goes out the window.

Enter the Snowcross. I've been a fan of Salomon's running shoes for a while now and this pair have proved every bit as good as their predecessors, even better given their speciality. Essentially the base shoe is much the same as the Speedtrak - a decent chunky sole, comfortable and a quick lace toggle system. The difference come in the fact that they include a completely integrated elasticated upper / gaiter. Having run in other shoes with a pair of Salomon gaiters I was aware of the benefits of upper ankle protection, but the Snowcross take it to a whole new level.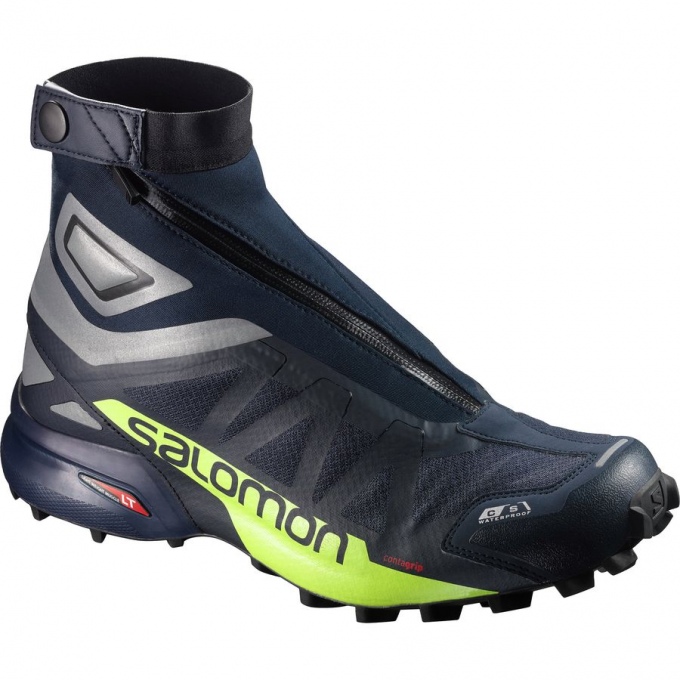 First a warning - I had to send the first pair back. I automatically went for the same size as I usually wear in a Salomon (I wear a 10.5 usually despite being a size 10, and sometimes going as low as a 9.5), but they were too small. I opted for an 11.5 which fits really well. I suspect it's down to the fact that the uppers constrict the regular shoe to some degree, but I'd definitely recommend at least a size bigger than your usual shoe size.

Once the show is on and laced via the usual Salomon toggle wires, it's a simple matter of zipping up the upper via a zip on the front. The zip needs to be on the front in order to allow access to the laces. Once zipped up there is a small pocket for the zipper to go in, and it is then held in place by a popper. Initially I thought this looked a little over-engineered, but having not secured the zipper properly the first time out, I had to stop within a few hundred yards to tify things up as it was immediately rubbing on my ankle bone. Once done properly I didn't notice it again, and there was never any hint of the zip coming undone whilst running.

As I have said, there sadly wasn't any snow to test them out in so I did the next best thing. The first thing I did was run through a stream, obviously being careful to keep the top of the gaiter above the level of the water. I was really pleased that even walking across - i.e. leaving the shoes immersed for a couple of seconds - no water came in. That bodes well for snow and bogs! The next step was to try them in deep mud. There's plenty of it around at the moment so they had ample practice. Again I'm pleased to say that my feet stayed completely dry and clean. The top of the gaiter is relatively tight thanks to the fact that the material is elasticated so no mud managed to get in there either.

The next thing to note was that after about 15 minutes of running my feet were noticeably warm. This bodes really well for snowy runs and I am super psyched to have these in my armoury for next winter. They don't have any metal spikes like the Icecross, but arguably you don't need such protective shoes for running in the sort of cold that necessitates spikes as everything is actually frozen and you are running on the top and not sinking through so a decent pair of socks should do the trick.

They retail at £175 which is an awful lot of money for a pair of running shoes. I never thought I'd say this, but really, that's worth paying if you are doing the sort of runs I was doing last winter. Effectively you are paying an additional £75 or so for a top quality innovation to keep your feet dry and warm in the most adverse of conditions. You'd pay that for a jacket or a pair of trousers, so why not look after your feet, which arguably are your most important tool as a runner?
More info on the Salomon Website.