lED Lenser H14.2 Headtorch
I have friends who have lots of running shoes, ones for the road, one's for the trails, off-road shoes for when it's dry or when it's wet… I generally have one pair of running shoes which I wear when I go running, Also for ages I just had a hybrid bike which I used both off-road and for commuting, in short I like one bit of kit which is flexible enough to be good at everything but not necessarily the best at one thing. The Lenser H14.2 fits nicely into this category. It is quite heavy (340g), and this I think will be it's main drawback for some people, however for this you do get something which is built like a tank. The aluminium light unit on the front feels very solidly built and after a year of abuse is as good as new. Similarly the hard case for the batteries at the back of the headband is built to take the rough. Despite being heavy it is well balanced on your head with comfortable thick straps. In terms of brightness its maximum output provides 250 lumens. It has a boost mode which provides 350 lumens but that only last for a few seconds. For me this has been absolutely fine for night running at speed across rocks, roots, mud and ice. With 4 fully charged AA batteries I reckon you get between 3-4 hours of burn time on maximum. You can also use 2 18650 batteries, which if you use good high capacity ones claim to give you double the burn time. The controls are idiot proof, an on button at the front, a dial at the back to change the brightness and the beam can be focused or widened by moving the lamp in or out. There is also a whole bunch of other settings you can do pushing, holding and twisting things, I'm not sure why you'd want to do all that but it's in the manual for those who are into that sort of thing.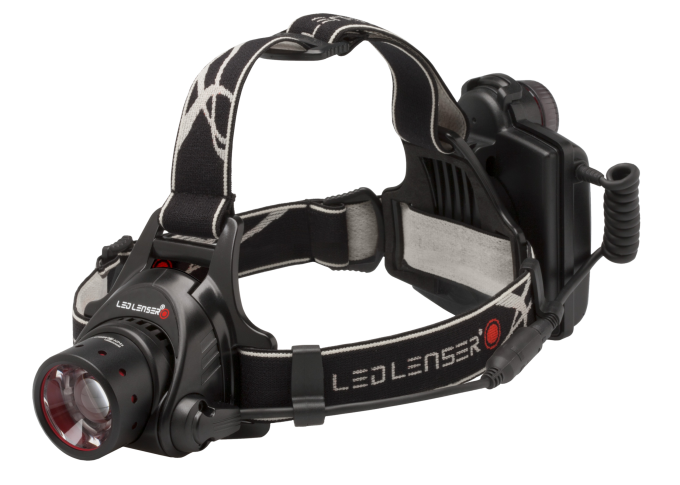 So now to the two annoyances, firstly when the battery is low it flashes to warn you, which is fair enough, but then it flashes every ten seconds to keep reminding you. It's like being constantly nagged at and is most distracting when you're trying to make it through the woods before being plunged into darkness. However the main annoyance is the easy in which the on switch is pressed when in your bag or put in a draw. The switch really needs to be recessed as it seems anything which knocks into the lamp turns it on. Obviously you can remove the batteries or unplug the cable but this is not ideal.
So I'd say for anyone who doesn't mind the weight, at around £50, if you're going to by one headtorch, this is a great for running, walking the dog, camping, DIY, etc
More details on the LED Lenser website.
Reviewed by Neil Ireson