Berghaus Kanchenjunga Jacket
Retails £300
Website
If you like pockets you will love this jacket. It has 7 of them! Two where you would expect them, although higher than standard waterproofs to enable access whilst wearing a harness, both zipped, nice and deep for keeping hands warm and dry. They are mesh lined which means that when you open them up whilst walking they double as ventilation openings. Two more inside, one on each chest, one zipped for mobile phones etc, and the other a mesh pocket with no zip. Then there are two Napolean pockets, one on each side, high on the chest, with vertical zipped openings close to the main zip providing easy access whilst wearing a harness, and lastly there's a single small zipped pocket on the left upper arm. All zips are waterproof with extensions on the toggles to allow for use when wearing glove or mitts. Each zip is also coloured differently to the main jacket material - in my case red zips on a gray jacket - which may or may not be to your taste. Personally I think that it enhances the look of what would otherwise be a very drab colour.
Aside from the extensive stowing potential the other most notable thing about the jacket is its weight. It's a full Goretex jacket that weighs in at a lowly 481g which is probably half of what some of my previous models have weighed. As a result it virtually always goes into my bag. To date the material is doing what all new jackets do well, and shedding water in great big beads like a duck in a waterfall! It's not let any water in, and has worked admirably well to allow sweat out. This winter will clearly see it tested a little more rigorously, but it stood up well to high winds and driving snow in a late trip up to Ben Nevis, keeping me both warm and dry.
Other features include the sensible one-handed hood adjustment meaning that you can put it on over a helmet and synch it up nice and tight with a single gloved hand. The peak of the hood has a reformable wire rim so that you can bend it into whatever shape you like. There's a similar one-hand=operable toggle inside the waist-band to tighten that. Note that it's inside the waist band which means reaching up under the skirt at the back to access it, but which also means no water ingress through the eyelets. Lastly when you zip the main zip all the way up the inside of the jacket is lined with a soft fleece so as not to scratch your cold, wet chin!
All in all a nicely thought out jacket with some great design features, weighing in as a super light weight full season jacket.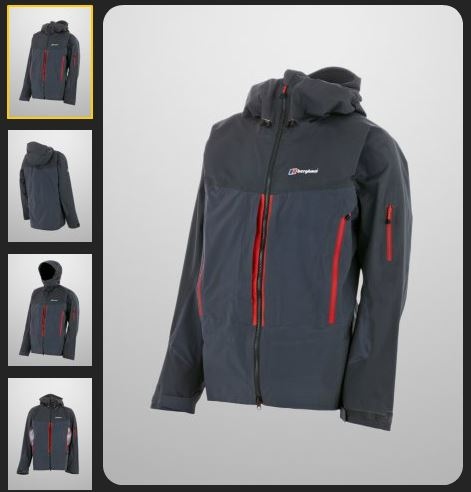 What the Berghaus website says:
Wearing a helmet on your ascent? This jacket features an innovative, wire peaked, helmet compatible hood with single-hand adjustment
Featuring two Napoleon pockets allowing you to keep essentials close at hand
Stay cool whatever your exertion rate with the 3D venting system that allows for more efficient core body cooling
A YKK AquaGuard® VISLON® 2-way centre front zip ensures ease of use with gloves and mitts – with better performance in cold temperatures
Asymmetric self-fabric cuff tabs, shaped to ensure ease-of-use with gloves and a secure closure every time
Find your perfect fit with the adjustable hem drawcord with one handed closure
The Men's Kangchenjunga GORE-TEX® Pro Jacket was designed and developed with extensive feedback from our athletes – including comprehensive testing by Philippe Gatta during his ascent of Kangchenjunga.
Designed to be our most adaptable GORE-TEX® Pro jacket with a host of innovative features created by our MtnHaus® Design and Development team, the Kangchenjunga provides versatility and protection for the most demanding mountaineering challenges. Features include our patented hood with single pull adjustment and 3D core ventilation, offering both weather protection and performance enhancing comfort.
Weight (approx.): 481g