Book: Wild Vision: In Celebration Of The Natural World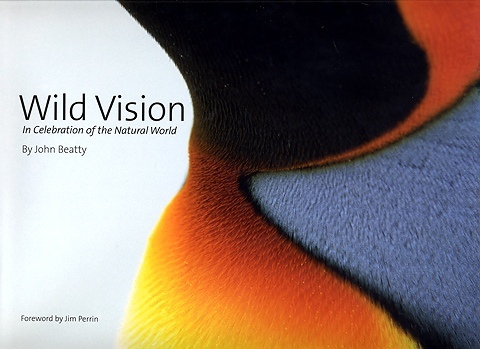 I've known John Beatty for a number of years and I knew that he was pretty handy with his cameras. However I had never had the pleasure of dipping into any of his books before now. He lives nearby in peaceful Bamford and clearly draws much of his inspiration from the local landscape. A few years ago he attended an event that I organised (a book reading by Jim Perrin) and described it as 'real grass roots stuff'. That's the sort of person he is. In his intro he immediately got me reflecting on the way we live our lives, describing his childhood exploring and adventuring in the very hills and fields that my own boys are now frequenting, but without the added attractions of televisions, computers and other gadgetry that has become so pervasive.

Wild Vision is a large format (30cm by 35cm) hard-backed book in landscape orientation. It comprises 230 pages of colour photographs and short essays written by John about the places he has travelled and photographed, focusing on the flora, fauna and landscapes. It is printed by Vertebrate Publishing and retails at £25. Its foreword is written by Jim Perrin.

My immediate impression was of the beautiful front cover photograph, a kind of textural shot of a penguin's neck. Although it's very abstract, if you've ever seen a picture of a King Penguin, or been lucky enough to see one in the wild, then you will recognise it at once. This is a forerunner of things to come. Not every photo in the book is a prize winner (though many are!), but each tells a part of a story that is John's incredible life, journeying to some mouth watering destinations. The first few chapters for example, take you to the Galapagos Islands, Patagonia and Easter Island. Later on we venture to the Himalayas, the African Serengeti, the Namib desert, and Okovango Delta. Yellowstone, the High Arctic, The Grand Canyon and eventually back home to the UK and to the Peak District. It's an impressive hit-list of the natural wonders of the world. Given that the images in the book are but a tiny percentage of what John's collection must be, his head must be quite literally bursting with memories of the places he has been.
The format of the book works nicely. The essays are short enough to remain interesting, and are written very well. His descriptive talents are superb. My only complaint is that I am sometimes reading an essay and wanting to see a photograph of the subject matter, but have to wait until I turn the page!

Wild Vision is a break from the routine of their regular guidebooks to climbing and mountain biking for Vertebrate Publishing, but along with their recent publications of Jerry Moffatt, Steve House and Ron Fawcetts autobiographies they have proved themselves more than competent.

John is currently finishing a UK-wide theatre tour to promote the book. Remaining dates are Buxton (25th Apr), Llandudno (27th Apr) and Brecon (28th Apr). Details here.