Junior Stretch Grip Glove - Sprayway
It's exciting that my kids are now getting old enough to warrant buying technical kit for. Before a recent trip to Scotland at Easter where we expected (and got) cold weather, I sourced a pair of these little beauties. I've recently reviewed a couple of pairs of similar gloves for myself and can appreciate a decent pair when I see one. These gloves are a little simpler than mine – they don't have e-tips for example! – but nevertheless are great for my 6 year old. They are not waterproff, but do a good job of keeping his hands dryis, and most importantly warm, when snowball fighting and also keep the wind off well. The silicone pattern on the inside of the gloves is super-grippy which he loves, and they fit very nicely. Gone are the days of having to repeatedly help him to get the correct fingers in the correct finger holes – they go in first time every time. Quite possibly the best thing about them is the fact that he loves the look of them so there is never any argument in getting him to wear them. The silicone pattern has been put on in a series of green spiders! Genius. Retail at £14.95 which is very good value for kids kit.
http://www.littleadventureshop.co.uk/Kids-Adventure-Products/Sprayway-Junior-Stretch-Grip-Gloves.html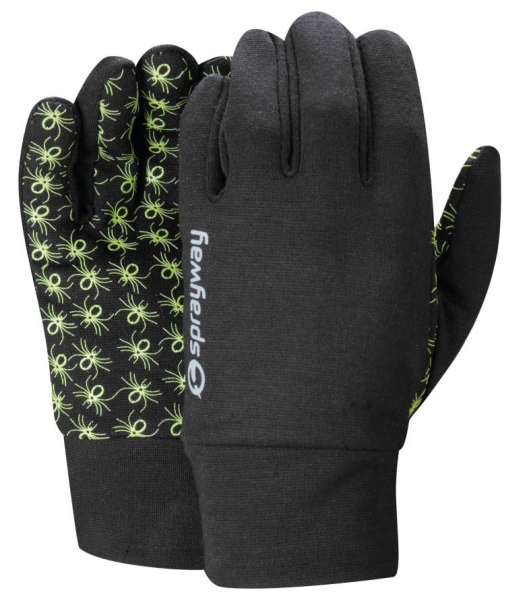 The blurb from Sprayway:
Form fitting stretch gloves offer unique Sprayway Junior grip technology.
Four way stretch fleece fabric
Silicone grip palm, in unique sprayway junior detailing
Clever pre curved finger design prevents fabric bunching