Retailing at around £56 (but available for £39.94 on Amazon) the P7 from LED Lenser is my current favourite torch. It arrived in a very well presented box complete with a heavy duty pouch and a lightweight karabiner to clip it to your belt / harness. With its 4 AAA batteries pre-installed the torch was ready to go from the outset. Brilliant.
Although it's reasonably heavy (190g) that's because it's made from air craft aluminium and takes 4 batteries. The weight is actually a reassuring of quality and longevity in an age of throw-away gadgets and gizmos. It fits very snugly in the hand and I've found myself using it for all sorts of things. I took it out on a recent night photography session on a very starry night in the snow and used it to literally paint the crag with light for some long exposure shots (note that a few other torches were used in the photo below):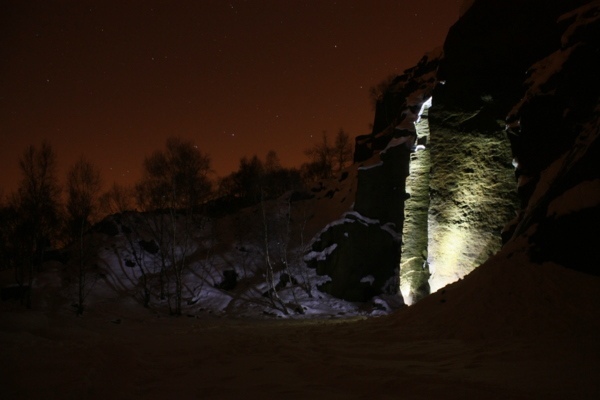 I now choose to take it running instead of a head torch. It fits snugly in my right hand and is well bright enough to light my way on a moon-less night in the trees. The very clever zoom collar is operable by the same hand that is hold the torch, so it's is incredibly eas, even whilst running, to adjust the concentration of light from a large to a small area depending on the roughness of the terrain. The collar is so far keeping it's resistance so it stays in the position in which you leave it and does not change as I rattle along.
Downsides: the button to switch it on and off, which is located on the opposite end to the bulb, is a little too easy to switch on by accident in your bag (on the plus side this make it easy to operate with gloves). It would also be useful if it came with a helmet mount for biking and climbing.
So far I've been using it pretty regularly for about 6 weeks and the batteries are holding out. If you want any more reasons to get one of these check out the reviews on Amazon above There are over 100 of them and they are ALL good.
Official blurb:
With 200 lumens of focusable light
130 hours of battery life
Standard AAA batteries
Advanced focus system from spot to flood