Polaris Cadence Bib Tights
I've been a while in getting this kit reviewed as it was simply too warm to wear and use until recently. I'd been aware of the Polaris brand for many years, having never quite got around to doing one of their mountain biking orienteering races in the past. Then a few years ago I drove past their factory building in Dronfield just a few miles down the road. I'm always keen to support local businesses so here's a review of some of their kit.

My parameters for the kit had been that it would fit my large frame, would be warm, and would be highly visible - wearing high viz clothing is a really easy way to lower the chances of being knocked off your bike in my book.

I'll be reviewing a different item of Polaris kit each day this week.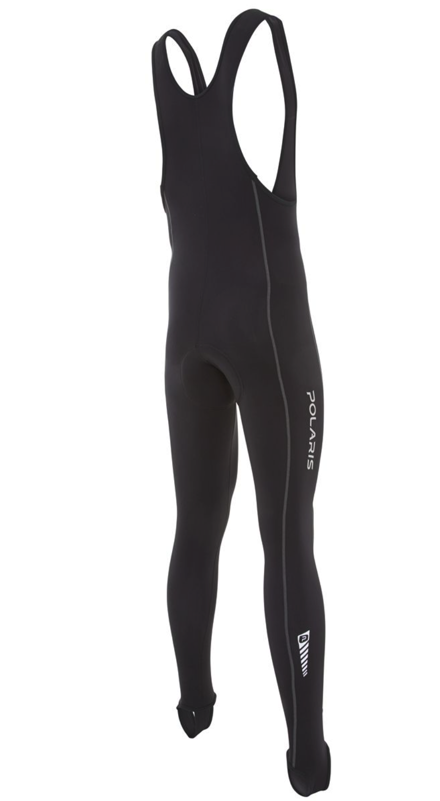 First up Cadence Bib Tights. Admittedly I once scoffed at anybody who chooses to wear bib tights, and even now I wince a little as I pull them on. However there is no denying that they do the job. I rode last winter in a chain gang a few times on cold and wet nights, and was all too aware of the gap of bare skin exposed to the air and spray around the small of my back, so had to do something about it. The Cadence Bib Tights are essentially a pair of very warm stretch tights which continue past the waist line to roughly half way up your torso, with a pair of elasticated (non adjustable) shoulder straps to keep them up. They are higher at the back which keeps your back warmer as you assume a regular cycling position, and also means that should you need to stop for a wee (I'm referring to guys here) you don't need to pull off the shoulder straps and drop the whole thing as there is enough stretch in the front panel. I think that's enough detail! There are no pockets on the trousers as it's assumed that you would always be wearing some sort of jersey or jacket, presumably with its own rear pockets. There are, however, stirrups at the leg ends to stop them riding up as you cycle. I find that on long rides these become uncomfortable - not due to the material used, which is soft and stretchy, but by virtue of the fact that they are there, and I am not used to them. I am already getting used to them. There is a generous amount of padding around the seat area, and the material is uber stretchy so there is no problem with the fit. If I were to have an issue with the tights it would be that they could feature more high viz markings or materials. There is a reflective panel and a large 'Polaris' down the side of each leg, but there could be more, certainly on the back of the legs, but arguably, all the way around. The lower legs and feet are one of the few bits of a cyclist which are in constant motion. As such, any reflective material on these parts is far more obvious than elsewhere. Perhaps this is a personal preference of mine as I don't see many tights with more reflective material / panels.I am 1m 95cm (just under 6 foot 5 inches), with a 34inch waist and went for a XXL. They retail at £59.99.

More Info >>
See also this review of some junior Polaris cycling kit