Rapha Pro Climbing Team Set
I only really started cycling a couple of years ago and have managed until now with fairly low spec kit from the likes of Lidl and Aldi. It was with a great deal of interest then that I rode the Eroica Brittania last weekend in a brand new spangly Rapha combo. The event is all about style and I figured that cheap and practical supermarket aisle of surprise goodies wouldn't cut the mustard.
Choosing stuff from the Rapha website was an interesting exercise I itself. There's a section on there with anecdotes from Rapha staff and athletes explaining what makes the various garments they offer their favourites. The idea is to find anecdotes that match with your own intended use. Of course there wasn't one for riding a vintage bike ride so I chose one that I figured would have a more lasting appeal with what I like to do and went for something that will hopefully get me up hills quicker!
Once I'd decided on a top and bib (cycling shorts with attached shoulder straps and lower back cover) combo I had to measure myself. There is a comprehensive guide on their website which asks you to measure various dimensions, many of which I had never measured before.
A few days later the package arrived in the post and the impressive service continued. Each item was individually wrapped in silky plastic bags, with all paperwork enclosed in a matt black textured envelope. They clearly weren't scrimping on the packaging! Inside were some of the lightest garments I've ever owned.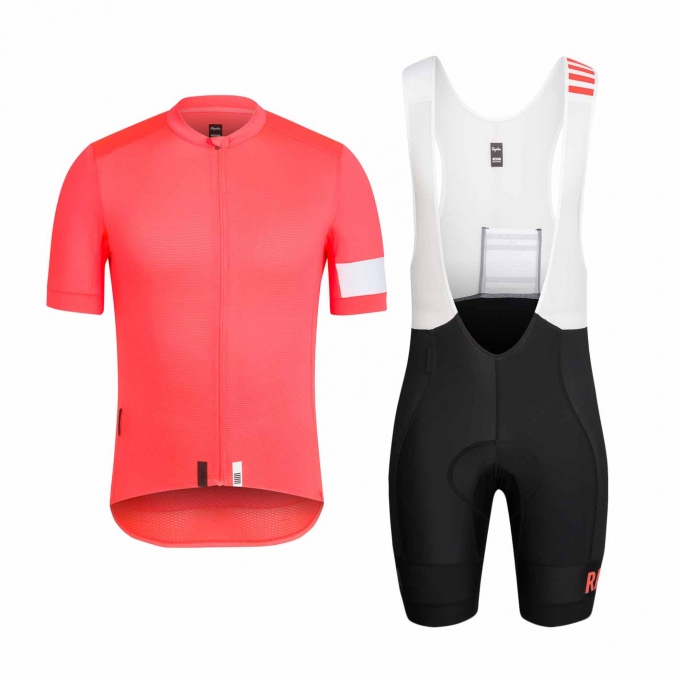 The bib shorts are a new one on me. I've always thought they looked a little odd, especially when worn at fancy dress parties with a whisk around your neck (don't ask!), but having now worn a pair I can quite see the attraction. The shorts fit snugly, almost with a degree of compression, surely designed to emphasize the average cyclists thigh muscles! They are padded as are most cycling shorts, but the padding extends a little further, is far better quality, and more comfortable than any I've previously worn. They cover the lower back, and come up to just below my belly button, with two shoulder straps holding them up. This effectively keeps the lower back warm when bent over the bike, something I'd not previously experienced. There are no pockets, just sleekness and lightness. They are black on the legs, white in the upper body.
The top is all white, and light as a feather. Again it's a small fit, designed like the bib shorts, to be most comfortable when on the bike, and almost uncomfortable when walking around fully erect (and let's face it, when we ride, we tend to spend the vast majority of our time on the bike, or sat in cafes where they are equally comfortable ;-)). It is short sleeved, with a full length zip meaning that it's easy to cool off on the hills. There are 3 deep pockets with elasticated openings on the rear which easily swallow a phone, wallet, pump, windproof and some gels.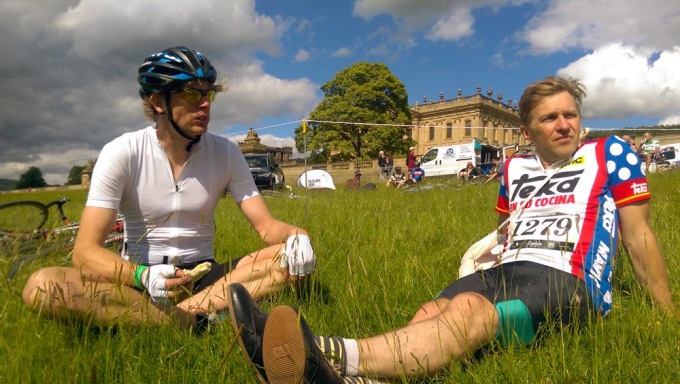 Chilling at the Chatsworth feedstation during Eroica Britannia. Photo thanks to Ed Richardson on Beautiful Everything
The fingerless mitts are once again snug (and white). The back is a breathable mesh whilst the front is largely pin-pricked leather. The left hand has a chami panel on it for cleaning glasses, whilst the right hand has a soft fleece panel for wiping your nose!
I've so far worn the combo for the 100 mile Eroica ride and a couple of shorted local rides including one vaguely epic adventure over the moors into Staffordshire last week which ended in a midnight torch-lit dash back into a headwind with lightning storms on the horizon. Thoroughly enjoyed every moment I've spent in them so far.
More info on the Rapha website.