Smartwool PhD Support Bra
Smartwool Women's PhD Support Bra* - My Initial Impressions.
Following my glowing review of Smartwool's ladies' Merino NTS Baselayer, Matt asked if I fancied reviewing the Smartwool bra for his Heason Events' blog.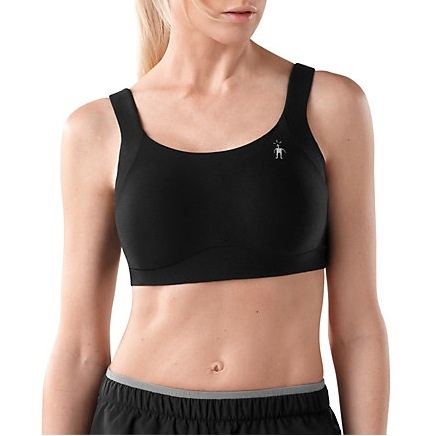 I assumed he was taking the mick and had visions of 1950s knitted swimwear. (Boucle knit bikinis looked great on the beach in 1950s MadMen style Vogue fashion shoots but were less safe in the water where the absorbent quality of wool proved a distinct drawback).
As it turns out, 21st century merino isn't just cool in the summer and warm in winter, it's also very supportive and not the least bit saggy. I wrote in my last review that Smartwool socks had converted me from a decade long addiction to Thorlo. To my surprise, the Smartwool PhD Support Bra may be replacing Shock Absorber and SportJock in my affections.
I had a bit of a shock when I was testing a Shock Absorber for an Ultra Fit magazine review a few years ago. The back-fastening, slide-in clip slid out leaving me in a potentially embarrassing position of having to strip, take the bra off and reattach the strap on a solo run on our local towpath. I'd also found that the name label on the elastic ribcage band caused painful chafing on long distance runs.
On the recommendation of the excellent, online sports bra retailer Booby Doo, I reticently tried a SportJock Super Sportsbra racer back all-in-one. I'd assumed racer backs were for skinny gym bunnies, but it was super comfortable and supportive and I've worn them ever since.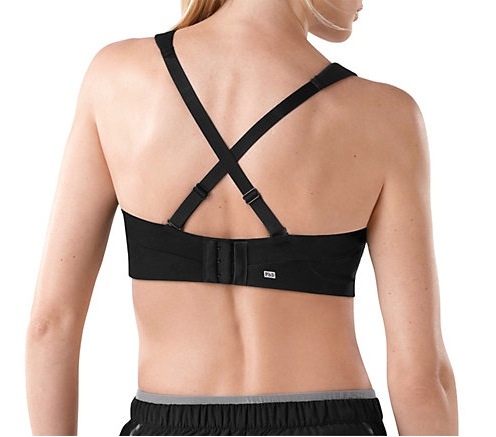 My only issue is that recently I've found the racer backs put pressure on my upper shoulders and neck. I think it's from riding on my drops when I'm out cycling and I find the pull across my upper back can exacerbate tension and precipitate migraines. I realise this is probably an issue very few people have and I'd generally continue to recommend SportJocks. (I also still wear my Shock Absorbers - just not the ones with side clips!)
Now I think I may finally have found my almost perfect solution in Smartwool. It fits like a dream. The straps give you the option of a normal bra fit or cross over, solving the back tension issue. I tried crossing them over and though the fit is comfortable, I did feel an increase in tension so reverted back to the normal fit which is perfect for me. The straps stay in place with no slipping so none of the annoying need to hoist them back up.
So far I've spent an afternoon gardening in it, done a 3 hour bike ride, walked the dogs and been out on our local hills running in it and I'm very impressed.
Like all first dates - even those that go this well - I have a couple of niggling 'Is this too good to be true?' type doubts:
1. The cross-over option means they've used slide in straps. Will they let me down? Will they get caught in the washing machine drum holes? I try and use bra wash bags or pillowcases, so hopefully not.
2. Sizing. I've lost weight over the summer but if I went back up a dress and cup size I'd be ditched as Smartwool don't go above a 36D. I'm investigating whether they have plans to upscale cup sizes.
I'll report back on whether my new crush develops into a longer-term partnership or whether I'm let down - literally and metaphorically - but my initial impressions are excellent.
*Written by Lissa Cook, not Matt Heason, in case you were wondering.
RRP - £49.99 – Women's PhD Support Bra
Stockist info
SmartWool
Tel 01753 497190
www.smartwool.com