France En Velo, Hannah Reynolds and John Walsh
France en Vélo - The Ultimate Cycle Journey From Channel To Med - St Malo To Nice by John Walsh and Hannah Reynolds.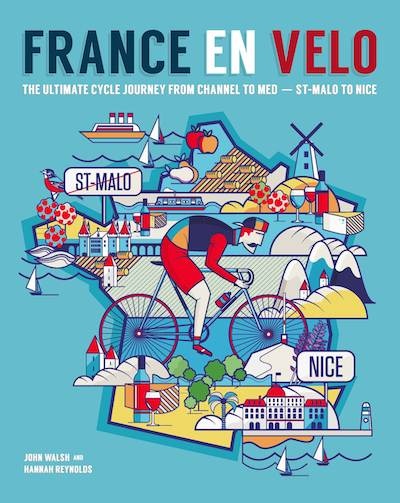 Writing a guide book is a tricky beast. You need enough detail and information - maps, routes, directions - to be useful to anyone who actually sets out on the route, but you also need the writing and photography to hit the mark.
I came across the book when I was googling a mad plan for next summer's holidays. This summer we spent 2 weeks cycling following the Tour de France from Yorkshire down to Les Vosges. Next summer we wanted to do another big bike trip, but with my 76 year old Mum. Over a decade ago we cycled Land's End to John O'Groats with her doing support in the travel cruiser. It was one of our best ever holidays and we wanted to recreate the experience abroad.
Hannah and John's book is a delight. It's got everything to satisfy a slightly OCD/anal map and timetable nerd like me in it. It is pitched at a range of abilities - both in terms of fitness and time with 10 day, 2 week and 3 week options. And it is packed with useful information about boulangeries for baguette stops and bike shops for puncture stops.
The route descriptions contain all the boring stuff that fills you with the confidence that the authors really did their research. (For example, picking a page at random - p 60 Stage 4 - "At the crossroads in Mondevert continue straight across on the D29, Rue De la Foret, signed Le Pertre 7km"). Yet it's anything but dull because it's peppered with descriptive passages and factual gems ("…you are about to enter a lovely narrow section…with stacks of logs at the end of tracks, disappearing into the woods. Consisting primarily of beech trees the area looks spectacular in the throes of autumn, while in spring and summer it is certainly a green world"). Then you get a fascinating little bonus feature on Horse Racing and Hippodromes.
My husband Nik (who is the co-author of a soon to be published trail running guide so understands just how much work a book like this requires) says, "It strikes that really nice blend between being an inspirational / aspirational book but still incredibly practical, useful and descriptive. So it's more than just a guide book on how to do the route, it tells a story in its own right. It's a book you can genuinely read, rather than just use for reference. It's almost like travelogue. The photography is spot on and the design is fresh and modern."
For me it's verging on a coffee table book - I've lived in France for 3 years and spent countless holidays there. France en Velo is was a treasure trove for Francophiles and cycling fans.
As it turns out, we've decided to park the St Malo to Nice holiday for another summer and are instead heading to Holland to do the Ronde Van Nederland. It's a longer but flatter so Mum will be able to do some cycling; my family's Dutch; and the Grand Depart is in Utrecht so we can also tick the Tour De France box. Meanwhile, we'll keep dipping into France En Velo, planning our 2016 adventure!
Lissa Cook
BUY FRANCE EN VELO – The Ultimate Cycle Journey From Channel to Med – St-Malo to Nice
Co-authored by Cycling Weekly magazine's Fitness Editor Hannah Reynolds. Cycling Weekly are session sponsors of Buxton Adventure Festival's Cycling sessions including our Science of Cycling expert panel, Emma O'Reilly and Karen Darke. Hannah will be chairing Cyclists Question Time, interviewing Emma O'Reilly and introducing Karen Darke's talk. (11-12 October)
SPECIAL OFFER FOR VISITORS TO BUXTON ADVENTURE FESTIVAL
France en Vélo – The Ultimate Cycle Journey From Channel to Med – St-Malo to Nice by Hannah Reynolds and John Walsh is available from www.franceenvelo.cc. To get your copy for a special introductory price of £13.59, saving 20% off the RRP, enter code SMNBA at the checkout, free postage and packaging to UK destinations. A fully supported 14-day version of the St Malo to Nice trip can be done with www.skedaddle.co.uk

The authors

Hannah Reynolds has worked in the cycling press for 13 years and is the Fitness Editor for IPC titles Cycling Weekly, Cycling Active and Cycling Fitness. She is co-author of Bloomsbury publication "Fitter, Faster, Further" a guide to sportive preparation.

John Walsh designed the first St Malo to Nice epic in 2010 for Saddle- Skedaddle , the UK's largest independent cycle tour operator.An experienced guide and expert on France he has guided all over the world from the challenges of India to the exotic beaches of Costa Rica.