Rucksack: Osprey Mutant 38
I realised that most of the rucksacks I owned were old or badly designed so approached Osprey to see if they would like any of their new models reviewing. This is the first of the packs to arrive, and the one that I use most regularly. It's very quickly become by default pack for heading out with. A 38 litre pack, the lid extends to make room for an additional 48 litres which makes it pretty much ideal for cragging, but with the capacity for heading out overnight. In the past, I've whinged about Osprey packs being over-designed, with too many straps and gimmicks. Whilst this one isn't perfect, and still suffers a few irritating features, it is a whole lot better than my last one.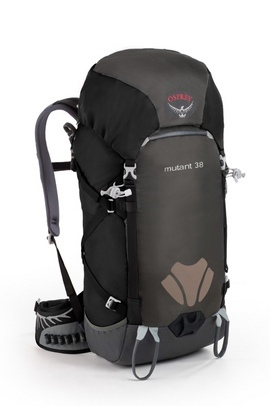 So what does it feature that I like? 4 well placed and discrete haul loops. It weighs 1.28kg which isn't too bad for a robust pack like this (I've had a number of lightweight packs over the years, and whilst they are great initially they do tend to wear more quickly). Furthermore you can remove the internal frame and a neat consotina'd bivvi pad to drop this weight to 0.95Kg if you need a really light weight system. I like the roomy lid / pocket, but do find the top half has an irritatingly small opening meaning that any guidebooks or maps need to be kept in the inside pocket (of the lid). Maybe this is a deliberate decision by Osprey as the inside pocket is probably more water-proof, but I'd like to keep my guides / maps handy when the weather is good thanks. I like its narrow profile – makes it great for actually climbing in. On that note there is a curious little feature on the front of the pack which needs some explanation. If you wrap around the waist belt the buckles clip together neatly inside this 'feature' meaning that you can move it quickly and easily out of the way when climbing in a harness, or when boarding an airplane. Overdesign, maybe, but neat overdesign at least! I've already mentioned the bivvi pad which is basically an optional glorified sit-mat that would do in an emergency bivvie. The front of the main body is covered in a durable material which protects it from ice axes and abrasive chimneys. It's also very comfortable.

The gear racking system on the waist belt is a curious feature in that it requires you to clip in karabiners into the tight loops. These krabs then stay fixed in place for you to rack gear onto, and aren't usable for anything else. Not sure that this will take on over the more familiar system of bigger loops to rack your krabs onto as it simply requires you to carr more kit. I dislike the strapping system in place for the extendable lid. Effectively it runs back on itself through a couple of plastic rings on the sack meaning that it can be completely removed, but adding unnecessary strapping, and more plastic. Likewise I am not keen on the Z compression straps on either side of the pack. There's not much room in there for a carry mat for example.

Retails at £80 which is well inside £100, a price tag I would consider would be a little steep for a pack of this size and spec. So very good value for money. All in all a very good pack indeed, and one that deserves, with a few tweaks, to become a classic!

What do Osprey say about it? Check out this video of Osprey athlete Matt Heliker demonstrating it's features.

The results of extensive testing and feedback from the vertical world, the Mutant 38 provides a simple, strong, lightweight solution for short alpine adventures or multi-day mountain trips.
Key Fabrics:
• Armourlite 420D
• Armourguard 900D
Stripped Weights:
• Small: 0.94 kg
• Medium: 0.95 kg
• Large: 0.96 kg
Reverse Wrap' ErgoPull Hipbelt
Secures the hip-belt out of the way whilst wearing a climbing harness.
3-Point Haul System
Allows secure wall hauling
Axe Loops and Gorilla Grip Patch
Allow for attachment of either technical/non-technical ice tools, the Gorilla Grip patch boosting durability against sharp ice picks.
Floating/Removable Lid
Allows the Mutant 38 to increase in capacity to a maximum of 48 litres, or shed overall pack weight when removed.
Hydration System Compatible
Internal hydration sleeve with hose port.
Hypalon Racking Loops
Exclusive to the Mutant, a proven, noninstrusive gear racking/organization system for climbing equipment.
Lid Pockets and Spindrift Collar
External pocket's circular profile prevents equipment/accessories finding their way into the far corners of the pocket, whilst the internal pocket keeps small items handy. Removable spindrift collar provides protection from the elements and extra retention for rope carrying.
Removable 3-fold Bivi Pad
Easy remove/replacable 3-fold bivi pad for super-light alpine use or as a simple sit mat.
Thermoformed EVA backpanel
Thermoformed EVA foam maintains ventilation and minimizes moisture absorption whilst a lightweight, removable framesheet helps stabilize the pack when loaded.
Z-Compression
Rapid, easy and removable load compression/adjustment. Easy installation of sleeping-mats, poles and skis. Once adjusted, excess webbing can be stowed in the Mutant's wand pockets.
Reviewed by Matt Heason on behalf of planetFear