Sandals: Teva Women's Tirra
Teva Women's Tirra sport sandals – colour: Grape Shake
I have owned my Tirra sandals for approximately 4 months and have interspersed wearing them with other brands of sport sandals throughout the summer. I found them to be generally very comfortable for walking over a variety of terrains. The sole is flexible enough in the forefoot to allow scrambling over rocks but rigid enough in the mid-foot area to support the foot on uneven ground. The cushioning under the heel provides adequate shock absorption for a gentle jog.

My only gripe is with the ankle strap; it sits a little too high on my foot. However, I have high arched feet so this may not be such an issue for wearers with lower arches. The Velcro can be repositioned but this impacts on the grip of heel strap, resulting in some heel slippage and I have been unwilling to risk wearing them on an all-day walk.

I have enjoyed wearing the Tirra's and they have performed well in both wet and dry conditions. They were easy to clean using cold water and a nailbrush, even after being plunged into a Peak District bog.
The strap configuration, colour and general styling definitely make the Tirra's my most girlie-looking sport sandal; I've even felt comfortable wearing them with a skirt.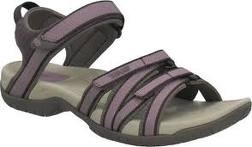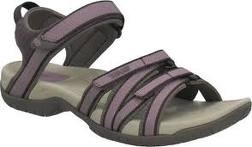 Reviewed by Deb McCart