Rucksack: Vango Boulder 25
A diddy little day sack that should be our default sack for heading out of the house. It holds 25 litres, enough space theoretically for a day walk, trip into town etc. In reality the frame is so rigid that it makes packing much kit into it full stop fairly difficult. Has some nice features - a fitted rain cover, compression straps and ice axe loops, but somehow it just doesn't lend itself to technical outings into the mountains. It's heavy for its size, at 1.32Kg. Having been fairly critical of it, it's worth looking at the price tag of £25. At a pound a litre it's got to be one of the best value sacks around and worth looking at if you are limited by budget.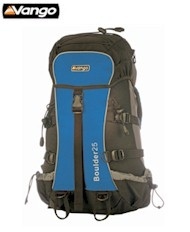 What Vango say about it:
Modern, contemporary, streamlined styling fused with an abundance of functional, versatile features the Boulder is ideal for climbers and hikers. Helmet space, (when you've finished polishing it) add a rope, ice axes or walking poles, wet gear storage options...or just room for a hydration pack and sandwiches. The choice is yours.
Volume: 25L
Weight: 1.32kg