Thermal: Montane Balance Shirt
This shirt retails at £40 which, in my eyes is a lot of money to pay for a base layer. That said, it's the best base layer I've yet owned. It's a kind of cross between your skinny thermal and nice thick fleece, coming somewhere in between the two in terms of its feel, but comparing favourably with the thermal in terms of its weight. To date (and I've had it some 6 months) it is showing no signs of bobbling as many lightweight fleeces do, and neither is it beginning to take on the permanent and slightly unpleasant smell that most thermals develop over time. My one complaint is the neck zip. The inner side of this zip is particularly pointy and catches far too easily for my liking on my chest rendering it unwearable with the zip in certain positions. If it wasn't for the zip I'd say it was well worth the £40. Fix the zip Montane, and you're onto a winner here.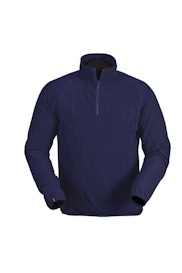 The official blurb from Montane:
Lightweight, reversible POLARTEC® Microfleece shirt.
The Balance Shirt is a truly brilliant and simple piece of lightweight, versatile outdoor clothing. Making full use of the POLARTEC® Velour Grid / Jersey microfleece, the Balance is warmer when worn with the grid on the inside and higher wicking when worn with the grid on the outside. It's therefore the ideal lightweight fleece mid-layer for changeable conditions or long days where your needs may switch between moisture management and insulation.
Details
* Reversible
* Flatlocked seams
* Neck zip with double head slider
* Lycra bound hem and cuffs
* Colours: Ink, Alpine red, Chestnut brown (Main Image), Black
* RRP £40.00
Fabric
POLARTEC® Classic Micro® Grid / Jersey
- 175g/m² 100% Polyester Single sided velour grid / jersey
- Warmth with minimal weight
- Highly breathable and quick drying
- Comfortable next to skin
Weight
230g / 8oz: Medium
Reviewed by Matt Heason on behalf of planetFear