Kit Bag - Vango Shuttle 80l
The Shuttle is a well thought out kit bag with a decent set of features. At 80l it's big enough for most trips, save a full-on expedition with yaks and porters! However, unlike many bags it weighs in at a lowly 1.25kg. This is less than half the weight of some equivalent bags. The weight saving has been achieved fairly basically, by using lighter weight material than standard barrel shaped kit bags. Whilst it's great at the moment, I rather suspect that it won't last any where near as well as the top of the range bags. That said, it amuses me to see expedition-style bags, designed to be hauled up walls and strapped to the roof of a bus on the Karakoram highway, being used on a sport climbing trip to Kalymnos. Sure, if you have a heavy duty bag, use it on all occasions rather than buy a second for less extensive trips, but I'd hazard a guess that most of the heavy duty bags never rub shoulders with a yak!
Features that I particularly like include the zip laundry compartment - a simple, but very useful addition to any travel bag, the detachable end pocket which doubles as a smaller bag that you can remove for day-trips etc, and the mesh pocket inside the lid. A few of my mags have this and it's brilliant for keeping all our travel paperwork to hand.
All in all, a useful bag retailing at around £30, which may not be around in ten years, but if looked after, will be perfect for the less extreme trip.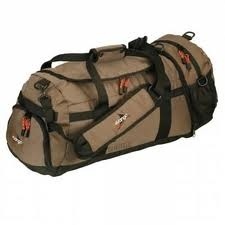 The blurb:
The Shuttle bag is an extremely usable piece of luggage, made from flexible, light and hardwearing ripstop fabric, this bag is ideal for trip away from home.
Volume: 80L
Total Weight: 1.25kg
Dimensions: 76 x 35 x 35cm
Excel 600D ripstop polyester body
Zip around top access to main compartment
Detachable end pocket zips away to form a useful smaller bag
Zip laundry compartment
Zip side pocket
Twin mesh pockets
Mesh pocket on inside of lid
Grab handles at both ends
Easy grip, padded handle at centre