Harness: Black Diamond Women's Aura Harness
This is a lightweight (300 grams) women's sport climbing harness with a simple design and no fussy bits. Despite its minimalist nature, the harness feels well-made and reassuringly strong.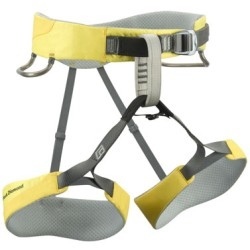 The harness has a longer rise than many women's harnesses, which is great for me because I am taller than average. It fits really well. If anything the leg loops are a little baggy for me but I think they are in proportion with the size of the harness. The speed adjust buckle is easy to use and gives me sufficient room to put the harness on and take it off.
There are two generous gear loops (plastic coated) which should be plenty big enough for sport climbing gear.
The padding is minimal because the "liquid crystal polymer fibres…allows distributing loads over the entire structure of the harness so no more thick padding is needed". This seems to be true as the harness is very comfortable to wear. I have tested it for several hours at a time at the climbing wall, including falls and hanging in the harness.
My main criticism of the harness is the dominant Lemon Yellow colour. It would look fine on a tanned climber in Spain, but on me it just attracts lots of comments like "wow, that's a bright harness". It also clashes with most of my clothing and therefore I haven't worn it as much as I would if it was slightly more subtle. Colour is personal though – you might like it.
The price is 99.90 Euros (or £88.79 at the time of writing) which is on the expensive side for a harness; but if you are willing to make the investment and you like the colour yellow, you will not be disappointed.
Review by Heather Clark