Sleeping Bag: Ajungilak Mammut Kira 3 Season ?Womens? Sleeping Bag
So, a women-specific sleeping bag…."What is the deal with that?" Surely a sleeping bag is a sleeping bag, maybe the shape could be more specific and I have always been a bit annoyed that there is an extra foot or so of bag below my feet in my previous sleeping bags, so shorter would be good, but I wasn't sure there was anything else they could change.
Anyway, just as I did with my first 'proper' sleeping bag when I was about 12, the first thing I had to do when I got this sleeping bag was to put it through its paces:
Test 1 - Relaxing in the Lounge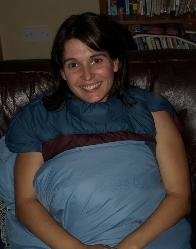 When I got my first sleeping bag, it was for Christmas and I was so excited that I needed to try it out straightaway! This was despite the fact I was in a lounge with an open fire going full blast so I was nearly cooked alive!
Well, on a couple of weekends away in a bunkhouse, I used the sleeping bag to keep warm whilst sitting around in the evening. The result - absolutely fantastic, the sleeping bag has a 'jacket baffle' which allows you to keep your arms out so you can read a book, drink a drink or even type a review!
Score 10/10 – toasty feet, shoulders and neck, what more can you ask for?

Test 2 - Sliding Down the Stairs
I am sure this wasn't quite as terrifying when you were a child! Well, I sat at the top of the stairs and thought "that looks really steep and the stone floor at the bottom doesn't look too inviting". Anyway, I let go and started sliding – ABORT, ABORT, I had to grab on to the banister to stop myself. That really isn't what sleeping bags are designed for, or maybe I really am getting old (see above).
Score – N/A because I am a chicken but the gorgeous silky outer would probably have helped me set a new record.
Back to the technical review…..
For a women's specific design, they have done the things that I was expecting them to do – wider hips and narrower shoulders and because women do seem to always have cold feet, an extra layer of insulation around the feet. They say in the technical details that some extra space has been added around the elbow area for ease of movement too but I didn't really notice.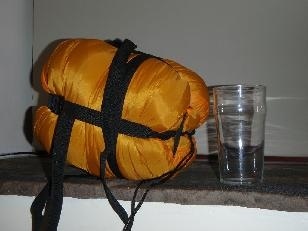 The bag is marketed on its Ultralight and soft filling but although is is very soft and toasty warm, it is not as light as other 3 season models on the market. It is very compressible though, with the bag squashing to half its original size and it would fit in a small overnight bag leaving enough space for your change of clothes.
The bag is also easy to clean, machine washable at 60°C, which is a real bonus compared to a down sleeping bag.
Price wise, this three season version retails at about £120 which is definitely at the luxury end of the market with other high quality 3 season synthetic makes retailing at about £80-90 and possibly weighing less but I would definitely not rule this one out – especially now I have tried it, the jacket baffle is a real winning feature in my book.
Reviewed by Rachel Hodges on behalf of planetFear