DMM Highball Bouldering Mat
Introduction
A reassuringly tough, chunky and easily portable hinge style mat in a lovely shade of yellow (unless you get the green one).
Landing
I'm very impressed with this mat. As well as making sure you are confident dismounting your favourite problems DMM seem to have thought carefully about all the little features that you need in a mat. Most important bit first…
This mat favours thickness over area and is filled with 2 layers of high density foam sandwiched around a 3rd thick layer of softer open cell foam. This feels good and solid and really cushions a fall from height - it doesn't feel like it bottoms out like some thinner/softer mats and gives you confidence even over tree roots/rocks etc. A slight downside of this is that it can feel a little hard at lower impact falls onto your bum/back from sit starts/low roofs - they did call it the 'Highball' though so I guess you can't have it both ways. A lot of people don't like hinge mats because of the weak point along the hinge between the 2 halves when laid flat. Personally, I've never found this to be a problem as long as you place your mat carefully and the benefits are that you get much more flexibility being able to double it up for small landing areas/extra high falls or drape it over rocks/uneven surfaces.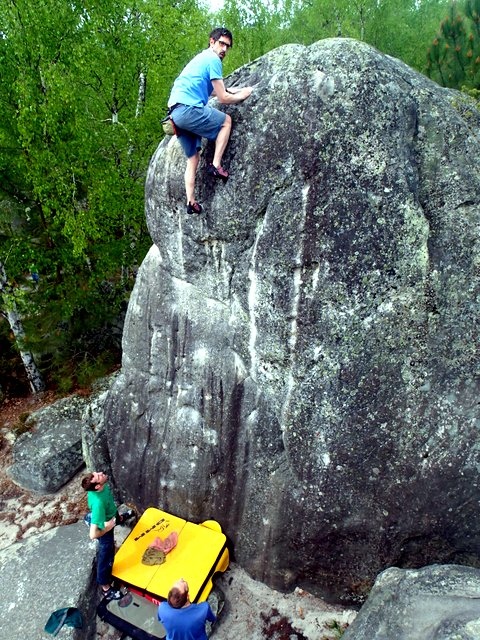 Highballing above the Highball!
Portability
The other benefit of hinged over taco style mats is portability - they are so much easier to pick up and carry and pack up smaller to bung in the car boot. This mat has a slightly smaller area than some comparable mats so fits into (my) car boot easily without forcing and with it folding flat leaves plenty of room for all the other stuff - some of us have to take another 3 family members and camping gear on our Font trips don't you know. For scampering between problems this mat has a rubberised (nice!) handle on each half so you can just grab both handles and carry like a suitcase without having to wrestle it shut or mess about with straps. However, if you do like messing about with straps, this mat has plenty - a 'strap 'n' flap' closure system goes around 3 sides to give plenty of room for stuffing 'stuff' inside. For longer carries/ walk-ins you have the choice of using the 'adjustable harness system' as rucksack straps or a shoulder strap. Both of which work fine and are easily adjustable but I would have chosen to have both ends of the shoulder strap attached to the same half of the mat so you can leave it attached when open. There is also a rucksack hanging loop and tensioning strap so you can strap your bag to the back of the mat whilst in rucksack mode - whilst I like the idea of this I'm not so keen on the weight distribution and my bag still swings from side to side a little more than I'd like so I've gone back to stuffing it inside. The quick and easy metal 'load locker' buckles work really well under tension for closing the mat and when carrying but I would prefer something a little more secure for the rucksack straps as they have often come unattached when I come to pick it up again- I have wrapped a couple of elastic bands round mine to stop this happening!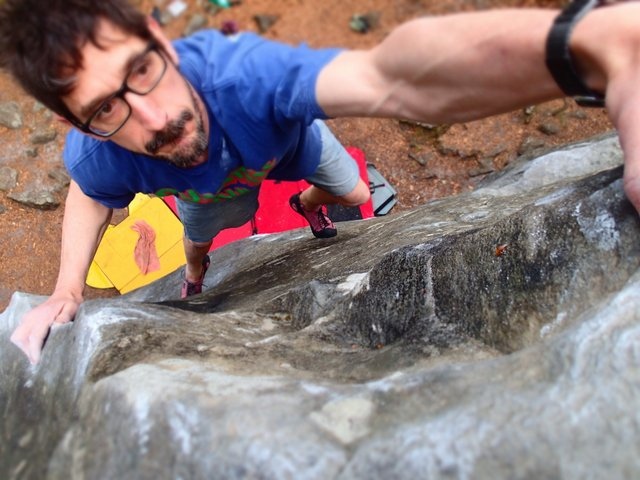 Other Features
One feature I ought to mention is the 'free' foot-mat that slots into a little pouch in the mat, which is a nice touch but one which I found unnecessary as I'm too lazy to put it back or remove it later to dry out… and I still use my scraggy old towel for a more thorough clean anyway. A few quid off the overall price might be more useful to people?
Time will tell of course but the mat feels tough and well made - a little video on DMM's website runs through all the construction details/features and it all sounds well thought out. One thing too small to mention in their video was the bit of elastic covering/protecting the zip end - one of those little touches that tells you plenty of care has gone into this design.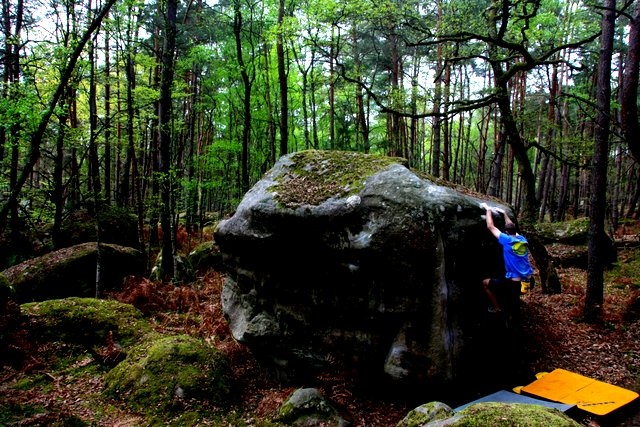 Summary
Overall, a nice mat and one I am looking forward to spending the next few years not falling off onto.
Where to buy the mat and find out more info
DMM Website | Facebook | Twitter
Reviewed by Rob Werner