Ocun WeBee Kids Climbing Harness
Our eldest boy is 8 and recently took part in a climbing competition for the first time. We arrived on the day with his full body harness that he'd been wearing whenever he climbed for the past 5 years or so and were surprised to see that the other kids were all in proper sit-harnesses which they could put on themselves and tie into with a figure of eight! So we decided it was time for him to move on and to get a proper harness.
Czech company Ocun make a range of climbing gear including an XXS sit harness for kids. First off it's nice and light- 345g. No heavy weight strapping to this thing. The strength in the harness comes from a narrow tape that runs inside a lightweight foam honeycomb matrix. The matrix obviously breathes well as it is full of holes, doesn't weigh much, and doesn't soak up water. It is also apparently pretty comfortable and spreads the load evenly. The two adjustable leg loops are constructed in the same manner. Both have the now industry standard anti-slip or slide-lock buckles. I found that I had to un-thread the buckles and pull the tape out from a few of the elasticated retaining loops, and then re-thread through the buckles, in order to get the harness done up tightly enough for his waist, but this was no biggie, and simply means that we'll ave an extra year or two's worth of wear out of it before he grows too big to wear it. It features a couple of gear loops which he's used already to clip gear onto whilst seconding. They are not really big enough to cope with a full trad rack, but would easily hold a dozen quickdraws for sport climbs. Exciting times!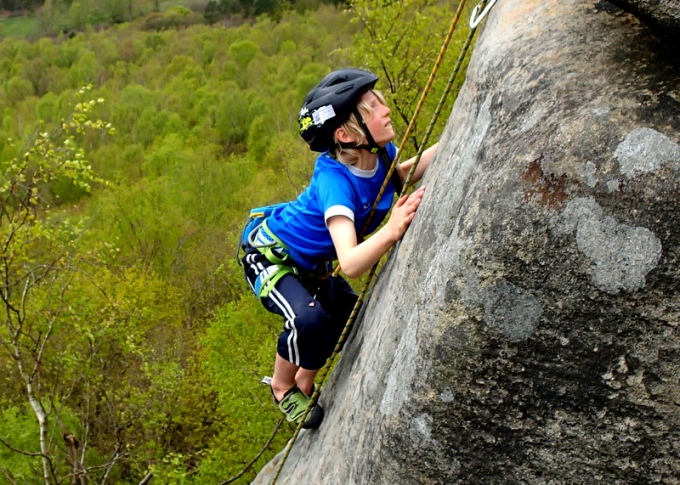 The harness is not widely available yet in the UK, but retails at a reasonable £30-£35 on various websites. Based on this bit of kit I'd be happy to try other Ocun gear in the future.
The UK Stockist is First Ascent - Tel 01629 580 484 - www.firstascentoutdoordistribution

What The Ocun Website Says

A comfortable harness built specifi cally to adjust to the bodies of young climbers. It combines the comfort of the movable waist padding with lightness, breathability and the durability of the Webee concept. Suitable for kids together with a chest harness!
Water repellent padding is easy to maintain
System of movable waist padding
Adjustable leg loops
Safety joint system
3 slide-lock stainless steal buckles (3× 20 mm)
2 gear loops
Follow Ocun on Facebook