Wild Swimming Walks - London
The full title of this book is: Wild Swimming Walks - 28 lake, river and seaside days out by train from London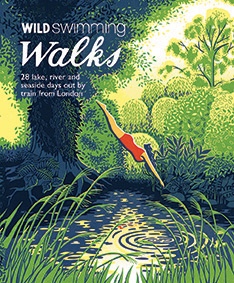 Wild Things Publishing have released a series of very good and very beautiful guidebooks to wild swimming in the UK and parts of Europe. I'm a big fan of wild swimming, and had been doing it long before the books came about so was glad to see it being recognised and documented like this, not least as they guides have given me many a pleasurable day in spots I would otherwise have never have known about. This new guide is a new format and a new take on its successful brethren. It's a little smaller, making it more portable, and the glossy front cover shot of somebody swimming in a gorgeous sunny location has been replaced by a beautifully illustrated drawing.

Interestingly the authors of the guide are hidden away inside the front cover, with the introductory explanation shedding some light on how the book came about and who is responsible. It's a collaborative effort lead by the Kenwood Ladies' Pond Association, spearheaded by Margaret Dickinson and Sarah Saunders, and born out of conversations amongst the members to share their knowledge of the water bodies and ways in and around our capital city. There is a full list of the contributors, with a lovely photo of them all together, inside the back cover. This is clearly a strong community of ladies, and it's very kind of them to have shared their knowledge like this.

Inside, the book is very similar to the other books by the publisher. There's an orientation map at the start which makes it easy to quickly identify where the 28 walk/swims are, followed by a summary, spread over two pages, with some basic details to help you decide where you might head for the day. Each walk/swim then has its own chapter with a full description, photos, references and all the other information you might need to embark.

The book retails at £14.99 and looks to be a must have for anybody living in the South East who fancies learning a bit more about their part of the country and literally getting immersed in it.
You can buy the book direct from Wild Things Publishing
For more reviews of Wild Things Publishing's books click here >>