Salomon Bonatti WP Jacket
I got the Bonatti to replace a well-aged Mountain Hardware Quark jacket. The Quark jacket had some good features, but its durability had let it down a little, it currently has no material between the mesh that holds the fabric together on the back of the neck.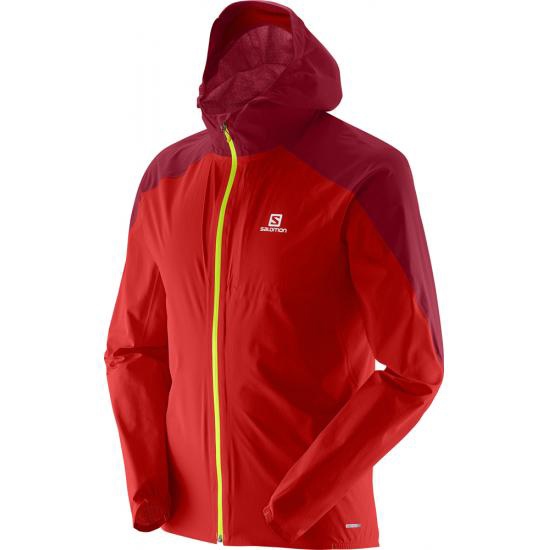 Where Do I Run?
My running is 99% off-road, pre-dominantly in The Peak, but also Wales and The Lakes where it takes me very much into mountain environments rather than the lower hills of The Peak.
Demands
My demands of a jacket for this role are lightweight, taped seams and easily packable; on the converse I need it to be able to stand up to pretty much whatever the mountain environment can throw at it. I'm realistic that I'm not going to get the same level of weather protection from a jacket in this category as I would from a specifically designed mountain shell, but I'd still expect its design to fulfil certain criteria.
Looks
Okay now the review. The jacket itself is an attractive red colour with a yellow zip. This is all-important when your mates are taking photos whilst out running for Facebook. All joking aside, I love running and it's nice to have a jacket that feels more vibrant and fun than a grey or black that is often the default colour of choice for technical clothing. It is also good for hill visibility – safety hat on.
The Material
The material has a soft and flexible feel to it, which is different to the predecessor in my kit wardrobe, which had a slightly more crumply feel to the fabric when packing away. This allows the jacket to be packed away easily and stows in less space than my previous jacket. I easily fit the Bonatti in my bum bag when running. It also feels like it has a slight stretch when running, which makes it feel very flexible and fluid in its movement when in motion.
Performance - Breathability & Waterproofness
I've yet to get caught in an utter deluge in the jacket, but it's taken some very windy driving spring rain days so far. On those it's stood up well to all of the weather it's had thrown at it. The challenge with any jacket used for running is being able to identify when the moisture on the jacket interior is coming from the inside (perspiration) or from the outside (weather). To date I've found the jacket to be very breathable with very little moisture gathering on days when I've worn it in windy but dry weather. Then in the rain a similar result, I've run for over an hour in horizontal rain and been as dry as the days I've worn it without rain. So I'm very happy with its performance to date.
Features
In terms of features, hoods are an important feature for me in running jackets. They need to be fitted (or adaptable) to stay on your head in strong wind, but not too ridged to allow you to be able to roll it behind your neck if there's not fixture for doing this in a more technical manner. The hood on the Bonatti does exactly this. It doesn't have any adjustable cord to tighten the hood around your head when you need batten down the hatches, but instead it has an elasticated section at the base of your skull at the back that does this for you. Then the peak is not as large as my previous jacket, but it's more than adequate for taking the top of the hood away from your eyes and giving you peaked protection from rain. Perhaps a small Velcro tab could have helped with stowing it behind your neck when not using the hood in wind and wanting to avoid it ballooning behind you, but then sometimes the Velcro tabs themselves can become uncomfortable when not used. As it is it stows away well enough without any tab by simply rolling it up behind your neck.
The cuffs - I'd noticed when I looked at the jacket initially it had no adjustable cuffs. Instead it follows a very similar format to the hood, with a simple elasticated fitting. To date this has worked without issue and plays its part in keeping the jacket easy to pack and the weight down. However, I have had times in the past when I've found adjustable cuffs to be an effective way of keeping particularly foul weather out of my jackets. We'll see how these stand up to truly awful weather.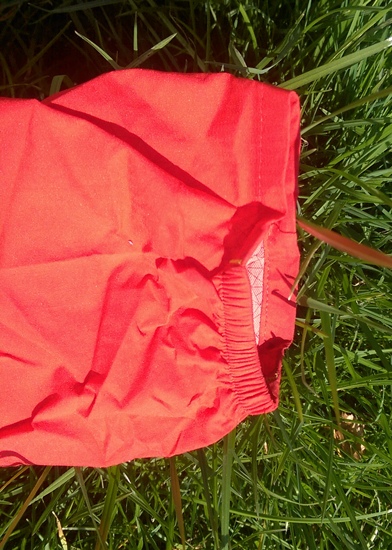 Sizing
I've found the sizing a little large, not dramatically, but a little! At 5'11" to 6' and about 12.5 stone I usually use a large in most of my jacket and top choices, but on occasion move to a medium for particular brands and/or if I'm seeking a particularly snug fit. I've found the jacket a little large for me, nothing that's really causing any issue, but the sleeves are longer than I'd usually like and the many body of the jacket larger in volume. Just a note.
Zip
I'd been put off one of the other jackets by a well know British running manufacturer as it's a smock really rather than a jacket with a full length zip. Whilst the smock option generally keeps the weather out better I find full-length zips are easier to deal with when putting the jacket on or taking it off. The Bonatti sports a full length, easy to grip zip. It also has a feature near the top of the zip that allows you to unzip the jacket part way but then button across to ensure the jacket stays on you but let in much more air. Not used it yet in the cool spring weather we've had, but it looks effective.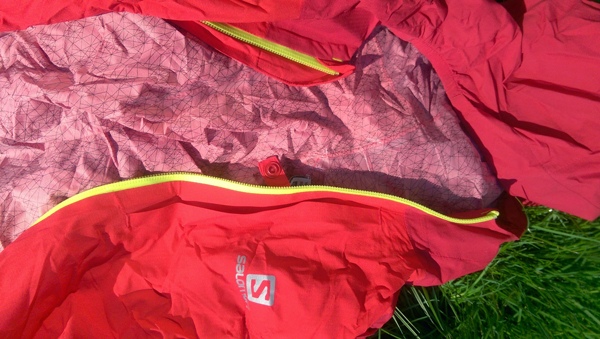 Summary
Overall, I'm very happy with the Bonatti jacket. In summary the jacket will play a wide role for me in my kit collection as my core running jacket of choice, covering everything from summer/spring rain jacket through to all but the harshest of winter challenges. It's lightweight, packable, seemingly durable and attractive in design. I'd be interested to explore some more of the Salomon running clothing range based on my experience to date with this jacket. Happy runner. It retails at £140 which I think is about right for a technical jacket like this.
More Info: Website | Facebook | Twitter | Youtube
Reviewed by Ed Richardson