A number of years ago we seriously considered a trip to Cuba. Not sure why it didn't happen really, but it didn't. We discovered an amazing website as part of our research: http://www.cubaclimbing.com/ which really sets the standard for all countries! This guide, of the same name as the website, is clearly intended as a carry-able companion to the site. It's clear, concise, full of decent topos showing sunny crags, inspiring action and landscape photos and contains a wealth of information on the country. I think that the best way to review this book is to say: go and check out the website, realise what an amazing looking place Cuba is, then buy the guide to take with you on your trip there!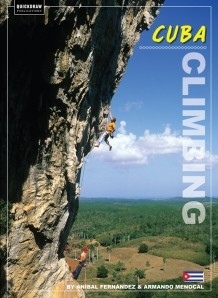 If you already own this guidebook yuo can download an update here.
Published by Quickdraw Publications. Priced at $29.95
Blurb from the website:
This guidebook is a first of its kind. Never before has the incredible limestone of Vinales, Cuba been documented and this book puts it all at your fingertips. The stone in western Cuba is very similar to that of Thailand, but lacks the humidity, poisonous creatures and illnesses associated with an Asian climbing trip. What Cuban stone does have are massive tufas, stalactites and caves - the kind of features sport climbing dreams are made of.
Cuba Climbing contains an extensive logistical section for traveling climbers, including those coming from the United States. It outlines all aspects of the trip and should provide a complete reference for planning a vacation. Cuba is arguably the best winter climbing destination for North American and British climbers, and this book help you plan a great winter vacation!