Salomon Supercross Running Shoes
The Supercross is the latest pair of Salomons I've run in, and is probably the best looking pair of shoes I've owned. They tread a confident line between smart and aggressive. The quick lace system is still there, but the small pocket at the top of the tongue to hold the slack laces once you have tightened them has gone and been replaced with a discrete elasticated loop to pass the toggle through at the bottom of the tongue. It works just as well, is probably a few grams lighter, and gives the shoe a sleeker look. The tread is white, as opposed to the usual black, which probably accentuates the aggressive aura of the shoe, with the large lugs easily visible from whichever angle you view them.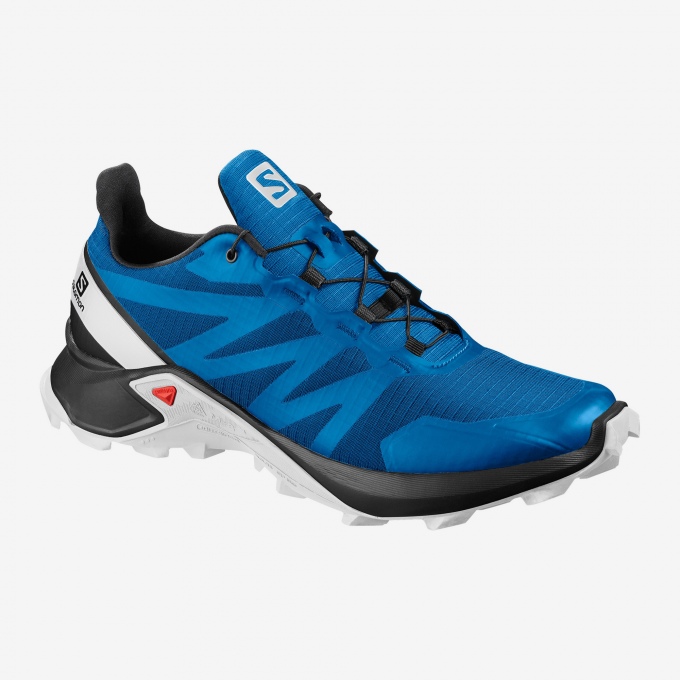 The Salomon website lists a series of criteria by which to quickly judge a shoe and to compare with their other models. These criteria include stability (2/5), lightness (2/5), cushioning (4/5), breathability (2/5) and protection (3/5). Interestingly grip is not included, despite this being the first feature highlighted in the blurb:
"SUPERCROSS is made for running in all the wild places you like to go. Whether it's a daily lap around your urban park, an escape to the local trail, or something more rugged, this shoe will grip on all terrains while offering a generous cushioning to make every run great."
Living in the Peak District grip is probably the most important criteria for any running shoe that I plan to wear off road. We've had more rain over the past few months than I can ever remember. All the trails are deep with mud so an aggressive sole with big chunky lugs is essential. These shoes tick that box with bells on. However, further reading of their website reveals that the shoes use their Contragrip TD rubber in the soles.
"For maximum traction on mixed terrain and extended durability, Contagrip® TD combines a deep, aggressive lug pattern with our most durable compound."
Most of the previous models I have run with use Contragrip TA.
"Built for maximum grip on loose, soft, rugged, and uneven surfaces, Contagrip® TA uses deep, sharp lugs made from a compound that balances durability and adhesion."
These two sound pretty subtly different on the face of it but in reality there's a world of difference. In between the acres of mud on our local trails there are further acres of rock - gritstone and limestone. And it's also wet for the majority of the time. The TD rubber simply isn't as sticky as the TA. Now I know this I choose my shoes carefully depending on where I am going. If there is likely to be wet rock, I use an older pair with the now worn TA soles. I understand that the TD compound is designed to be more durable, but that has been at the expense of grip. If you run forest trails, or are lucky enough to live somewhere which remains dry for much of the time then these are the shoes for you. If you are regularly on wet rock then go for a sticker sole.
I've found them to be perfectly comfortable - see the 4/5 score for cushioning - and look forward to using them for years to come as the rubber will no doubt out-last my other shoes, but they won't be heading out in the rain much.
They retail at £100. That seems a fair price for a shoe that's going to last a good while.
More info on the Salomon website.