Moon Warrior Bouldering Pad
Ben Moon's parents will have had no idea what a cool surname their son was going to bring to the world of climbing. As one of the leading sport climbers and boulderers of the 90s Ben gained a legendary status in the climbing community, so it was no surprise that he launched his own brand of clothing and equipment. With such a pedigree in bouldering it's even less of a surprise that he would choose a line of bouldering equipment which includes Moon Landing Pads and Moon Dust (chalk).

The pad in question is the Warrior. It's their mid-sized pad and retails at £175 (the Pluto is £110 and the Saturn is £275). It's a taco style mat, which means it's surface, when opened out, is one piece, without a stitched seam along the fold-line. Taco shaped mats have prois and cons and this one is no different. They are more difficult to fold up as you have to fight the resistance of the flexibility of the foam, and they can also take a while to flatten out when unfolded. On the flip side they are safer as there is no weak-point along the fold, and they are easier to stuff a rucksack or bag into when carrying as there is a natural tube formed when folded.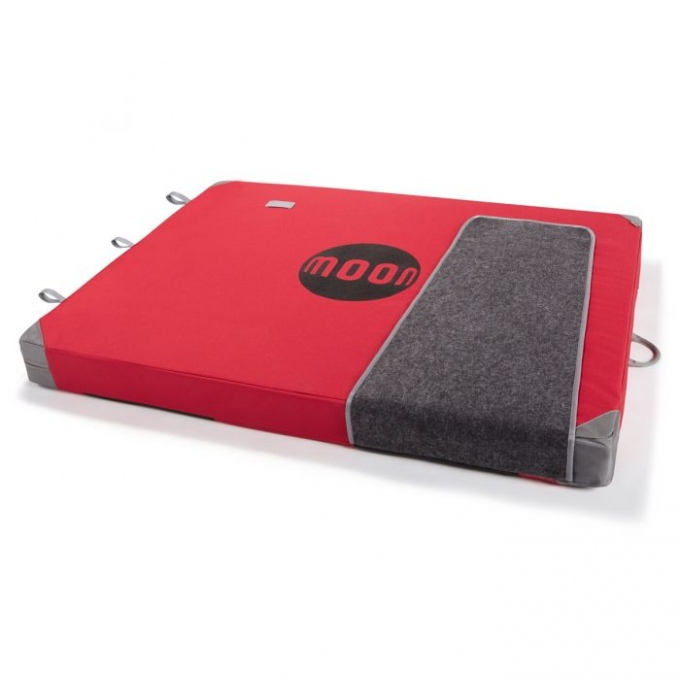 In order to unfold the pad under a boulder there are 3 metal hook buckles that need unfastening from their matching loops. It's usually necessary to loosen the straps a little in order to unfasten the hooks, but this is fast and easy. Once the straps are unfastened the mat usually half unfolds itself, but needs standing or sitting on in order to completely open it out.

I find it odd that many folk put their mats down upside down, particularly Taco style ones as it does encourage them to stay flat. If you are ever in any doubt as to which way up to put a mat, just think of it from the manufacturer's point of view, they haven't designed them so their logo is in the dirt facing down! This is important as it the internal construction of the mat is based on two layers of foam of different densities. The harder layer sits on the top and spreads the impact evenly across the thicker and softer layer underneath. If you use the mat upside down then you effectively drop straight through the soft layer and the hard layer does all of the impact dissipation. Used correctly the mat is nicely firm. The ripstop material feels super durable and I have a feeling this mat is going to last for a long time.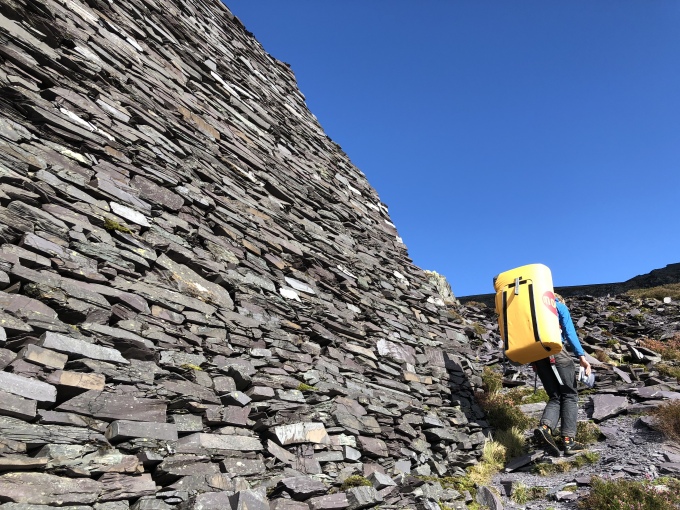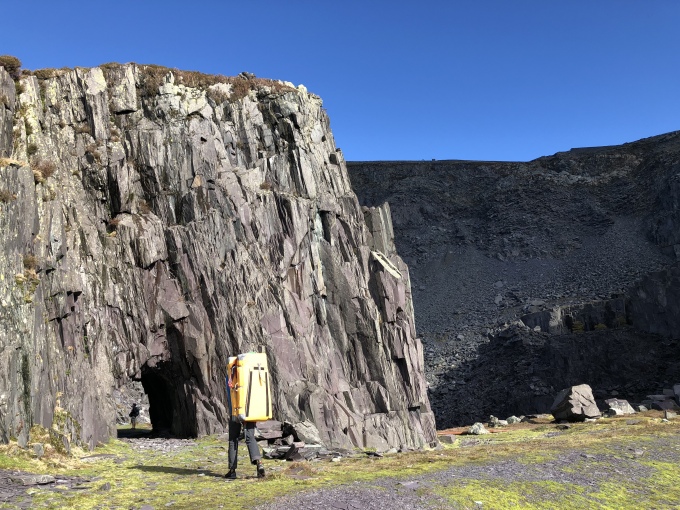 The main feature which needs writing about is the rucksack straps that are stowed away behind a Velcro panel when the mat is in use or in storage. This panel doubles as a foot mat (made of the same stuff as some door mats) when in use, and is a large trapezoid shape, stitched to the mat along one edge. The other three edges comprise a thick band of Velcro which means when it's fixed in place there's little to no chance of it moving if you land on it. When it's time to pack up and go, you pull the flap back by its narrow end, fold it back underneath the (now folded and fastened) mat, and use a length of attached Velcro to pass through a loop and back onto itself, attaching to opposing Velcro on the other side. This then creates a bottom to the tubular shape of the close mat meaning that you can slide in your rucksack and it won't fall out. It's a neat bit of design.

There are a couple of pretty comfortable carry handles along top edges (when folded) which make lugging it around between boulders pretty easy. However there is no shoulder strap which is mildly frustrating as I prefer to carry my mat that way from time to time; that said it's easy enough to fashion one from a sling.

The last feature worth a mention is the rounded corners. These make getting it in and out of a car boot a whole lot easier that it would be if they were square.
Overall I can't really fault it. It's solid, functional, looks funky and pretty good value for money given what it is. Nice one Moon!

Pluto - 100cm X 100cm X 9cm / 5kg
Warrior - 130cm X 100cm X 11cm / 6kg
Saturn - 160cm X 120cm X 14cm / 8kg

More information on the Moon website.