Fleece: Henri Lloyd Flare Hood
Eighty five quid for a hooded fleece is a lot of money in my book. If you're into designer labels then it's probably a snip, and a well made one at that, but iif you're not, then you will justify the price tag. The blurb says it's lightweight – it is; breathable – not sure it's really an activity garment, but I did wear it on a number of walks whilst carrying a child in a backpack and didn't feel too clammy; warm – for its thickness it certainly is; very packable – it is indeed a fairly lightweight jumper; and quick drying – medium I'd say.
Basically a slylish and smart jumper for heading out into town in or even walking in, but I wouldn't use it for anything active / technical.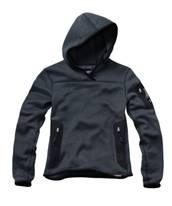 What the blurb says:
Henri Lloyd's Flare Hood with Polartec® - the easy-care jumper
Henri Lloyd has expanded its knitted insulation range for 2009 with Flare Hood which uses Polartec® Thermal Pro® knitted look. Available in both men's and women's sizes, Henri Lloyd's Flare Hood offers a high warmth to weight ratio and easy care properties thanks to Polartec®.

Quintessentially the Flare Hood looks like a jumper yet uses Polartec® Thermal Pro® which is 100 percent polyester. This means that you get style and function: this garment is lightweight, extremely warm, breathable, very packable and quick drying. It's a take anywhere, wear anytime layer.

Flare Hood [men] features: reversed full length front zip, welded hand warmer pockets and welded pocket to sleeve, binding to hem.
Colours: carbon [pictured right], light grey, SRP: £85.

Reviewed by Matt Heason on behalf of planetFear