When speaking to Inov-8 about needing a pair of shoes to cope with the unusual amounts of snow we've been having, and the mud that is likely to follow during the thaw they mentioned the Bear Grip 200. The shoes arrived, and the first thing I did was turn them over to check out the tread. It's chunky, there's no doubt about that. The pictures on the web show that, but it's always good to see stuff in the flesh. Initially I went for a size to match my foot-size, but opted for half a size bigger and a couple of pairs of socks on the basis that the first ones were definitely on the snug side, and I envisaged a lot of pounding downhill resulting in busted nails and sore toes. The choice was a good one I think. No discomfort in the toes, and only one trip over the slight addition in length which could just easily have been a result of tired legs.
Whilst on the subject of tripping let's get the negative stuff out of the way first. The tread is so chunky that when not running n soft mud or snow it's quite easy, especially towards the end of a run on tired legs, to catch the bottom of the shoe mid stride. So far I've not tumbled as a result of one of these brushes, but it's happened enough times to make me super-aware about keeping my feet high at all times. Just a word of warning.
I've had a few pairs of minimalist shoes over the past two years and like them a lot. The Bear Grip 200 are the first pair I've had with such an aggressive tread though. The same goes with these as with others in that I am avoiding racing on rocky ground in them as this invariably results in bruised arches as a result of less care in placing my feet, and simply running harder (I descend pretty quickly and speed generally means heavy landings). For everything else I've found them incredibly comfortable. I've just come back from a week in Scotland where I logged about 50 miles, some on tracks, some on grassy verges, some on rocky paths, but plenty on bog and snow. One run took us over two Munroes in full winter conditions. It felt a buit naughty being up there in such a light weight pair of shoes as opposed to walking boots and gaiters, but they coped admirably. I had a pair of Yaktrax with me and used them on occasion, but actually found the tread coped with all but ice as well as the trax (and the trax were no good on the ice either so I just had to be careful!). The only downside to wearing them in the snow is the thin mesh sides are not at all warm, but as I've already said, I had on two pairs of socks which more than compensated. The mesh sides are definitely showing signs of wear and tear after a month of running in them. My last Inov-8's suffered in the same way, but were still wearable long enough for the tread to wear down so I guess these may go the same way.
The all-important thing for me is the stickiness of the rubber. I come from a rock climbing background where sticky rubber is paramount, and the difference between competing brands can be massive. Clearly the aggressive tread helps enormously, but the actual rubber definitely seems very sticky even when on smooth wet rock.
With the mesh sides and incredibly low profile they weigh in at a tiny 200g which has to help your legs!
Here's what Inov-8 have to say about them:
The closest a runner can get to a natural feel, whilst retaining grip off trail. No midsole ensures the natural power and speed of the foot is transferred directly through the shoe. Optimally placed cleats deliver maximum traction and contouring in wet ands soft conditions. One for the purists, chose this for maximum grip and proprioception.
I'd agree. They retail at £95, but can be found online for £80 without looking too hard. A very good buy for the right conditions.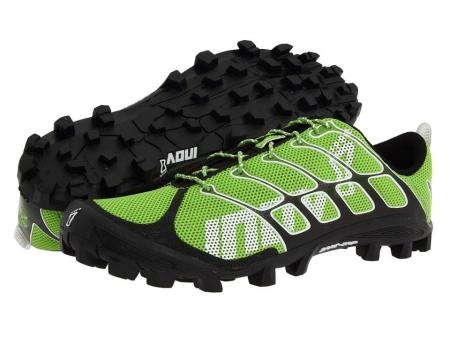 Just to prove that the shoes really were tested in proper conditions here are some action photos :-)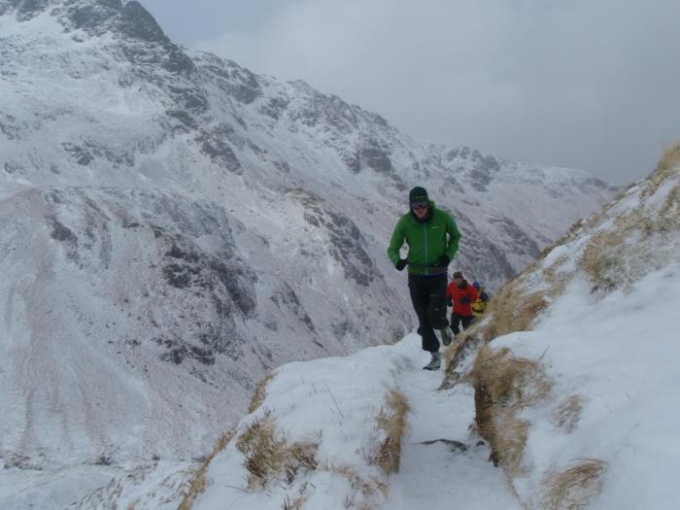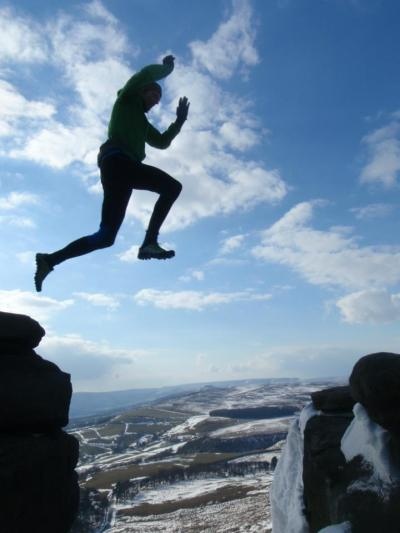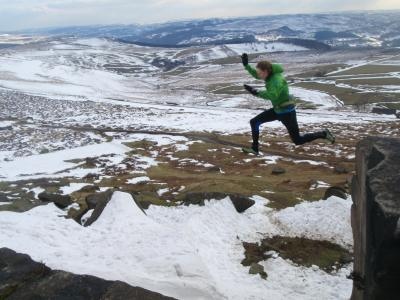 Photographer Steve Hodges.