The North Face Plasma Thermal Jacket
For years I thought that down jackets were the only way to keep warm when out and about. Problem was, unless you forked out a lot of money for a decent jacket with a waterproof shell, you'd never stay dry in the rain. Well, you'd most likely stay dry, but the jacket would take a soaking and would then be out of action for a week in the drying room. You'd also look a lot like a Michelin Man!
Of course, there has long been an alternative, and that's an insulated waterproof jacket. The TNF Thermal Plasma (sounds like some sort of new audio visual technology to me!) is just such a jacket. It combines the benefits of a decent waterproof with that of a light / medium-weight duvet. I'll use this jacket for anything from a quick trip into town if it looks like it might rain, to a full-on day on the hill where I am likely to be sweating one minute, and trying to stay warm the next. The waterproofness has so far held up very well. The pit zips, and the fact tat it unzips all the way down the front (unlike some duvets) mean it's easy to regulate my temperature on a steep climb. It's light enough and packs down enough for me to never think about not taking it because I don't have the room. It's bright yellow which means I am easy to spot apparently! That said, it does feature some black panels too which give it a little style (for a jacket at least). I'd question the narrowness of the velcro cuff straps, but that said, they have not started to gather bits of fluff and other rubbish yet which may just be down to their low profile, and I guess that they also help keep the overall weight down (to 798g). The hood seems pretty good. It is fixed so can't be removed. Personally I am a fan of fixed hoods - they can't get lost! And finally it has plenty enough pockets. All good. Top jacket.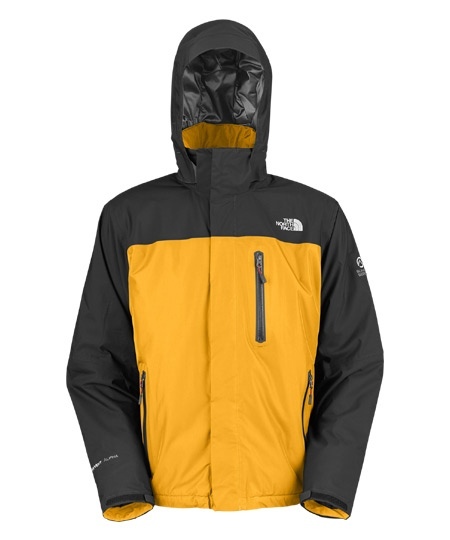 Manufacturers Blurb:
Waterproof, breathable, seam sealed, HyVent Alpha
100 grams of PrimaLoft One insulation
28.2 oz ( 798 g ) average weight
Fully adjustable hood with laminated brim
Napoleon chest pocket
Internal security zips
Pit-zips for venting
Non-abrasive molded cuff tabs
Hideaway hem cinch cord
For those seeking the summit, zip up in The North Face Plasma Thermal jacket. The Plasma Thermal is lightweight for when the grams start getting counted, and it is 100% waterproof by means of The North Face HyVent membrane. A laminated brimmed hood keeps water and snow out of your face while keeping your head dry. Full pit-zips allow for a larger area of ventilation for when you need a quick cool down.