Thermarest - NeoAir Dream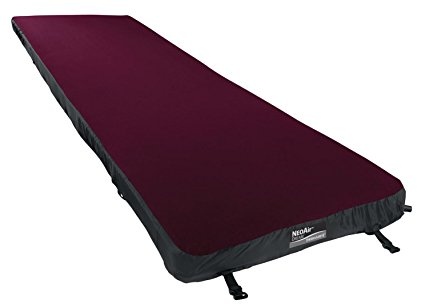 Probably the best testament to the comfort of this mattress came on the day it arrived. We had some friends visiting and the subject of sleep came up. I'd pumped up the mattress when it arrived and it was on the floor in our lounge. Each of the 4 guests lay down on it and declared it more comfortable than their mattresses on their own beds!

Back in the day our family had 4 foam roll mats and that was that. We slept on pebble beaches, icy glaciers, sandy beaches and grassy fields. Comfort was never paramount. It's a different world now. We have car boot mattresses and lightweight backpacking mattresses, all inflatable. The Neo Air Dream slots firmly into the car boot category, being too big to realistically carry any great distances. That said, it's about half the size and weight of our previous car boot mattresses, and a whole lot more comfortable too.

Let's get the vital statistics out of the way first. Mine is a large and weighs 1.84kg (there's also an XL which weighs 2.25kg). Mine is 63cm wide (XL = 76cm), 196cm long (XL = 196cm) and 10cm thick (XL = 10cm). It's packed dimensions are 25cm X 41cm (XL = 25cm X 47cm). So that's pretty heavy to carry, but actually packs down to a very manageable size.

It's comfort is thanks to the fact that unlike most mattresses it has two additional layers. Sitting on top of the usual inflatable mattress, which takes up 7.6cm of the overall depth of the thing, is a thinner, but very comfortable layer of soft foam. The two inner layers are encased in a zippable outer sleeve, which has a fleecy top side. It's easy enough to remove the layers should you need to. It also comes with straps and buckles attached to allow you to clip it to a second mattress and make a double bed.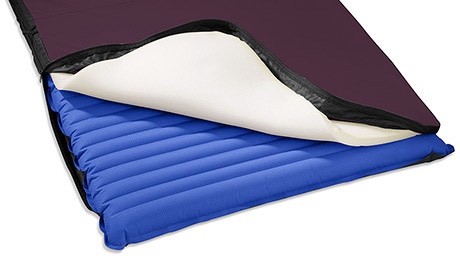 The valve is a standard Thermarest twist type, but this mattress comes with a very small and neat pump which will operate from 4 batteries or via a 12v connection to a car cigarette lighter. Although the pump is convenient it took about the same length of time to blow up with as it does with some vigorous puffing (about a minute and a half). A nice luxury if you are in the car, but not an essential. Deflation is a simple process of opening the valve and rolling the mattress to expel the air. The pump takes CR123 batteries which aren't widely available in the UK so it's worth carrying spares.

It's RRP is £195 which is a serious amount of money to spend on a mattress for those of us who grew up with £10 foam rolls, but if you value your sleep then it has to be worth considering. It's available for about £150 if you go hunting online. I'm hopeful that the outer will help to prolong the life of the mattress and bring the cost per night down significantly.

More info >>