Rab Boreas Pull-on Jacket
Introduction
If you've read any of my other reviews you'll know that I am a keen advocate of lightweight kit. The Boreas Pull-on is just that. Weighing just 259g and packing down into a fist sized bundle it's perfect for throwing into a bum bag or rucksack whilst out walking / climbing / running / cycling. It's not a waterproof, and neither is it a full windproof, but it protects against the sun and cold, with a reasonable amount of wind protection and basic shower resistance. Despite screwing it into a ball and stuffing it into a rucsack repeatedly all summer it shows no creases, and has some antibacterial qualities which mean that, rather like Merino wool, it doesn't start to smell as quickly as other garments.
Features
It doesn't have many features, save for a 1/3 length zip from the neck, and a small chest pocket for a phone or camera, and a basic hood (with no drawstring). That said it's the simplicty of the thing that appeals to me. The material is super stretchy meaning that you can get the long sleeves up past your elbow if necessary.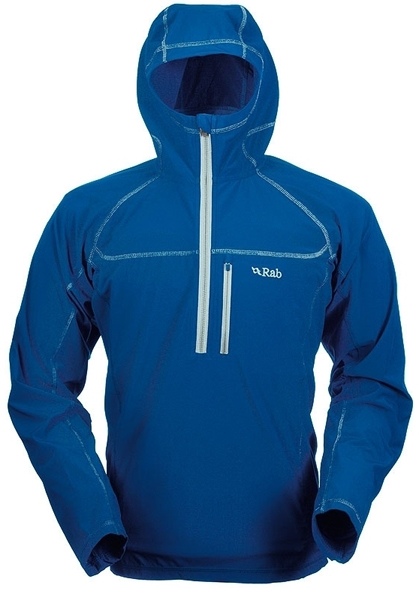 Summary
I'd compare this garment to a tablet (of the electronic variety!) in that it's something that you didn't think you needed, but actually serves a niche pretty well. Retails at £59.99 which is pretty reasonable for a quality piece of kit. I found it particularly useful this summer cycle touring in Denmark where the evenings were not too cold, but I wanted a some protection against mosquitoes. All in all: a superb 10/10.
More Info:
Rab's Blurb:

The Boreas Pull-on is a lightweight stretch pull-on designed to offer protection from the sun and the elements when in the mountains.
The Boreas Pull-on has been designed to offer fantastic sun protection when climbing or travelling in mountainous areas. The fabric does also offer some wind resistance but this does not compromise breathability and makes the Boreas a fantastic mid layer for both warm and cold conditions.
The Rab Boreas was awarded(on its's launch in 2011)a coveted Backpacking Magazine Editor's Choice Award
The Boreas Pull-on now has an added, unseen extra. Polygiene antibacterial treatment has been added to the fabric meaning that the Boreas Pull-on is ideal for multi day trips and more appealing (to you and your friends...)

Sizes: S - XXL
Weight: 259g (Large)

* Matrix SWS fabric
* Polygiene® STAY FRESH odour control treatment
* Under-helmet hood
* Deep venting YKK chest zip
* 1 YKK zipped chest stash pocket
* Flatlock low bulk stretch seams
* Open cuffs
* Fit: Slim