Boreal Joker Velcro Climbing Shoes - Women's
With two growing boys who are into their rock climbing it's a fairly constant battle to keep them in decent rock shoes. My eldest is now 12 and has grown out of the kids models which aren't really suitable for him any longer anyway. Adult men's shoes in a size 5 or 6 are rarer than hen's teeth so it's mainly the women's range we are now looking for. They tend to have a narrower fit which suits growing feet anyway, but it can be an obstacle if the colours are particularly pink-based. Thankfully there are enough non-pink models out there.
The Boreal Joker Velcro is one such shoe. It is a narrow fit with two generously wide Velcro straps both of which open in the same direction (inside to outside the foot). The extra width on the straps gives a little extra scope for diagonal strapping if you are wanting to focus on a tight heel or toe. The Velcro is also showing no signs of wear and tear after six months of use. My lad has found them to be comfortable and often has to be encouraged to take them off during a long session to allow his feet to breath and stretch! Slipping them on and off is straightforward thanks to two generous pull loops on each heel, and a wide opening tongue.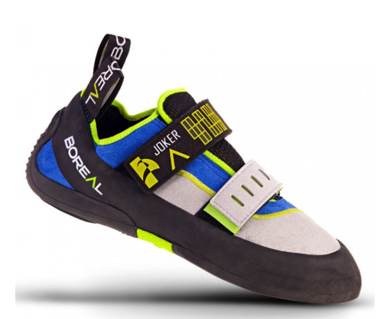 Shape--wise they are a pretty flat shoe, pitched as a jack of all trades but master of none. This is exactly as he found them. Good at all things, but not excelling at any particular one.
They have a white and blue leather upper with yellow stitching so neither stand out nor look drab. He's happy with them and doesn't in the least mind that he is wearing a women's model. Whilst the heels are not aggressive they do have a series of ribs in the rubber to aid in hooking.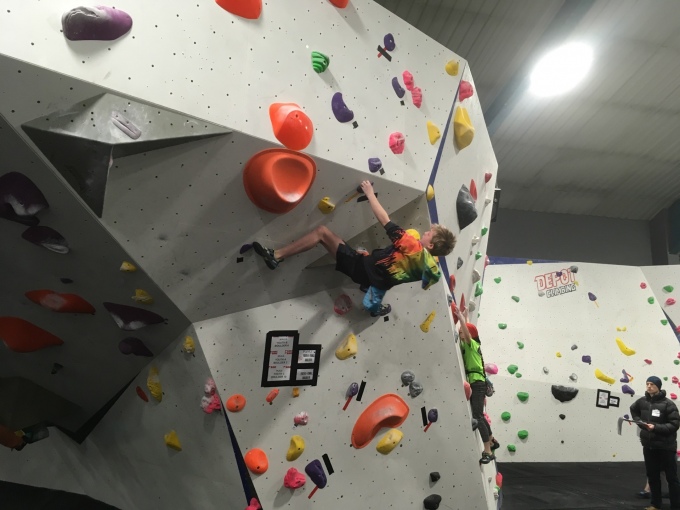 They do whiff a little, but he's a 12 year old boy so I would expect nothing less.
They retail at £80 and are generally available for a bit less than that if you shop around.
More info on the Boreal website.