It's a common issue that people have always faced, a little like Murphy's law which states that a dropped piece of toast will always land jam-side down, that when you really need a map the area you want is on the overlapping section between multiple maps. Perhaps it was a sick joke played by those responsible for the drawing up of the national park boundaries - cos that's where we spend most of our map-reading time - that they deliberately colluded with the Ordnance Survey to create as many maps for each park as possible to encourage us to buy them all. I'm kidding of course, but you get my drift. So the Ordnance Survey have done the only thing they can do short of re-drawing all their maps, and offered a service where you can tap in your post code and have a bespoke map printed with your chosen spot dead centre. These maps are great for putting on the wall at home, but they wouldn't last two minutes out in the rain and wind.
The British Mountaineering Council, in their infinite wisdom, realised there was scope to do something about the problem, and teamed up with renowned map-makers Harvey, and have produced, so far, 15 maps that actually include the whole of many of the most popular parks and other popular destinations on a single sheet. Or the at least condense some of the heftier areas into two maps instead of four or more.
For example the Peak District is split into the White Peak and Dark Peak. Snowdonia has one for the main massif, and a second that covers its Southern reaches, down past Cader Idris. Knoydarton the other hand has a single map to cover its whole area.
The full collection consists of: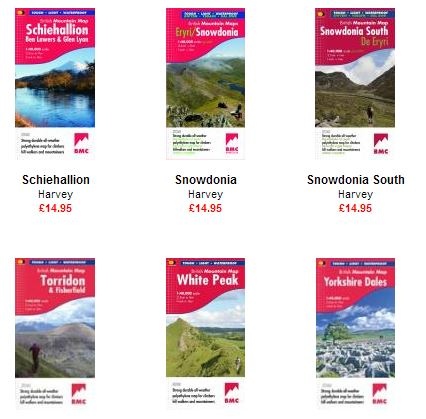 Each map is available via the link above for £14.95, or, if you are a member of the BMC, £11.95.
Each is waterproof and non-tearable, but on a light weight non-laminated paper stock so they are not bulky. Last weekend I took two maps out - yes, after my glowing intro we of course chose to do an unusual bike ride which spanned both the Snwodonia and the Snowdonia South maps - and was able to roll them both into a small saddle bag along with an inner tube and tool kit. They unrolled and were used without any wearing or creasing.
Importantly the scale is a little different to your standard map. The 1:40,000 equates to 2.5cm to 1km or 1 inch to 1km. Spot heights and contours are marked in metres. The contours are coloured in such a way as to give a quasi 3D impression which takes some getting used to, but works nicely when you do. On the reverse of each map are some, or all of the following:
Map extensions for popular areas that don't quite fit on the single sheet.
Geological maps.
Instructions and tips on using a compass - something pretty essential as battery reliant GPS units and phone-apps become more prevalent.
Emergency numbers and advice.
Useful local phone numbers and websites.
And of course a small thumbnail map indicating the extent of coverage given by the map (this thumbnail can also be seen by clicking on any of the individual map links above).
I can hand on heart say that when I go to my map box to select one for a day out I will always choose the BMC / Harvey map if one exists for the area I am going to. I suspect there will be more over time - I recall the first one coming out not so long ago and now there are 15. Well done to the BMC and in particular to ex president Mark Vallance