I recently arrived at my folks house after a long bike ride. My Dad asked where my waterproof was so I tossed him the little tennis ball sized stuff-sack that contained the Salomon Fast Wing Hoodie. He looked a bit taken aback that I would venture out with such a minimalist bit of kit, but I assured him that it keeps the wind off nicely, and keeps me relatively dry in all but the heaviest of rain. True, the forecast had been mainly dry, with a few showers on the horizon, and I may have chosen something more robust had I been looking at 10 hours in the drizzle, but for that particular ride it was perfect, slotting into my bar bag and barely taking up any space or weight.

Aside from taking it with me on bike rides I've used it mainly whilst running. It fits easily into my bumbag, race-pack, or even on occasion, my back pocket. If I leave the house with it on and get too hot, then it's a simple natter to unzip it, tie the arms around my waist and push on without even stopping. However, before that I will usually make use of one of its novel features, the top button. If you remember to do up the top button when you put it on, then you can easily unzip the jacket whilst on the move and it will stay done up around your neck, meaning that it doesn't then spend its time slipping off the shoulders. True, it can billow up a little as it catches the wind, but given that I am usually crawling uphill when overheating, wind resistance is not really a worrying issue. If I had one quibble on this front it would be that there ought to be a bottom button too, to avoid the zip opening all the way and then flapping around from the bottom, whilst still connected at the top. Because of the lightweight nature of the thing, both the button and the zip really need you to stop running in order to operate them as they are too fiddly for my fat fingers to manage on the move.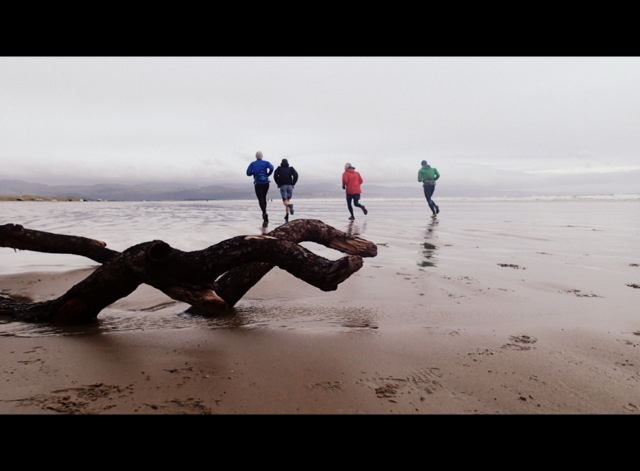 Running in inclement weather directly into the wind and rain in Snowdonia. The Salomon Fast Wing Hoodie is the green jacket on the right.

There's a reasonable sized chest pocket big enough for a mobile phone and a gel or two, which has a hole through which you can poke a headphone cable. Better still the jacket can be stuffed into this pocket meaning you don't lose the stuff-sack!

It has a basic elasticity hood which doesn't stow away and can't be adjusted, but fits nicely all the same. The whole thing weights a teeny 94g and retails for £80 (but is available for significantly less than that if you go shopping on line). A very good lightweight bit of kit for medium weather.
More information on the Salomon Website