Walking Boots: Scarpa Ladies Manta
The Scarpa Manta Boots are recommended for up to Grade 3 winter climbing and I would fully back that up. They felt amazingly light for the amount of support they provided for my ankle and certainly were comfortable straight away and needed no wearing in. Having said that, the boot is restrictive enough for me to not contemplate them for summer walking; this is definitely designed for the more serious walker and less serious winter conditions- something between the hiking boot and plastics.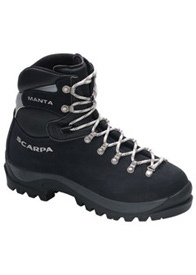 The Vibram M4 technical sole is tried and tested and did exactly as well as I expected, it gave plenty of grip in all conditions. The leather upper is thick enough to provide warmth, wear and tear has not been a problem and I don't expect it to be for a long time. There was, however, some moisture build up and at the end of the day my socks were damp, but there was no odour and my feet were still toasty warm in the snow. The boots need a water repellent applying.

The Mantas are compatible with Air Tech GSB compatible Crampon. Their Italian design certainly shows in their appearance, and their simplicity in use. These boots are good technical boots for someone who takes their walking seriously and to more severe conditions.