Sprayway have been well established as one of the UK's leading outdoor brands for more than 40 years building, over that time, a level of trust in the overall quality of their wide range of products. The Grendle Jacket doesn't disappoint.
Whilst maintaining a priority in their reputation for producing high quality, top end gear for the keen outdoor enthusiasts, they have also moved with the times and, with the Grendel Jacket, produced a good looking and stylish windstopper soft shell.
Offering great windproof-ness, with a good level of water resistance and breathability, this comfortable jacket is suitable for a wide range of activities and weather conditions.
Boasting a 'Mountain fit', the stretch side panels allow for a good range of movement - even whilst climbing - with the drawcord adjustable hem enabling a snug fit in poor weather conditions, so often experienced out on the hill. The Inso/Therm insulation offers a good level of warmth; with 80g used for the body and hood, and 60g for the sleeves.
The jacket has 4 spacious, secure zip pockets - two waist pockets (left and right), one outer (left) breast pocket, and one inner (right) breast pocket which also doubles as a handy stuff sac, enabling the jacket to be neatly stowed and/or and discretely fastened to the back of a climbing harness. Weighing just 533 grams means this is a jacket which can be easily carried, whilst climbing without a rucksack, in an area where worsening weather is a possibility.
The 'Mountain hood' gives a snug yet perfect fit, with easy-pull and release drawcords, and a small stiff-rimmed peak offering great visibility, even when the draw chords are pulled tightly together. Despite the snug fit, a hat or climbing helmet fits easily beneath the hood.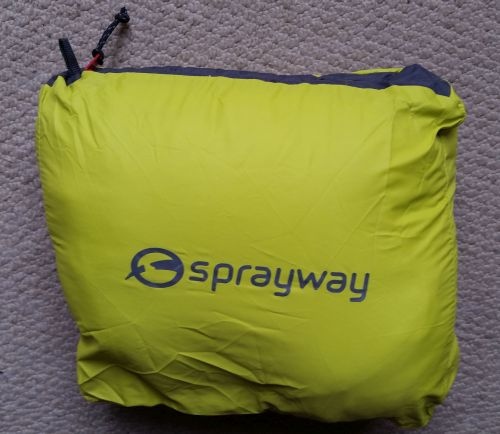 The only drawback I have is with the sleeves. I'm a keen rock climber so I may have slightly larger forearms than average, but I wouldn't say they're exceptionally large, by any means. The sleeves fit too tightly, and are slightly restrictive, even when only wearing a t-shirt underneath. With a light fleece, or similar garment, also worn underneath, the sleeves become even more restrictive on the forearms, particularly if you're climbing.
I have a Medium size jacket so perhaps the next size up might have fitted my forearms better, but the rest of the jacket is a perfect fit for me at this size. Medium has a back length size of 71cm.
Other than the restrictive sleeves over the forearms, I couldn't find a single fault or criticism with this otherwise fantastic jacket.
RRP £159.95