On a recent trip to Cliffbase in Croatia I was in need of some power. Cliffbase is an amazing place, but has no mains electricity, so is totally reliant on the sun. Last time we went there was a single light in the main communal area so I wanted to arrive prepared. Mobile Solar Chargers (MSC) do a whole array of kit for use in wild places. For this trip I took one of their packages:

https://www.mobilesolarchargers.co.uk/shop/details/travel-package
But with an upgraded 10W Cigs panel - https://www.mobilesolarchargers.co.uk/shop/details/msc-expedition-10w

If it's not clear from the photos this kit comprised:

A 10W foldable solar panel with a USB socket.
A 10,000mAh battery pack
A 2,600mAh battery pack
A Torch
2 X LED light panels

Practically speaking this was a very deft setup. The solar panel is super lightweight (210g). It's flexible and folds up along pre-bent folds into a package 138mm X 267mm X 18mm. To save you the bother of getting out a ruler that's roughly the same width as a standard paperback, if a little taller, and about the same thickness. It has a couple of poppers to keep it packed up. Un-pop these and you can fold it out to its full size of 512mm X 267mm X 8mm. The majority of it is around 1mm thick, the 8mm bit is because of a small USB socket. The full panel has 6 reinforced eyelets and the thing comes with 6 lightweight clips to fix it to your rucksack, pannier, or whatever else you have to hand.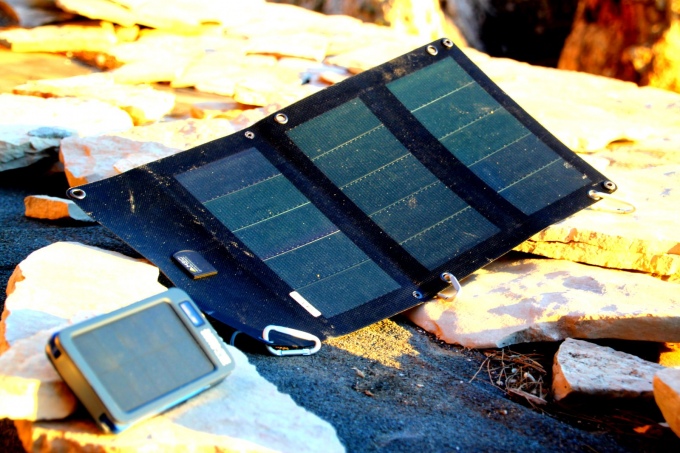 The 10W CIGS panel on test in the Croatian sunshine

The larger of the battery packs is waterproof (as is the panel), and encased in durable rubber. It weighs a further 230g. It features a panel in the end which clips in and out of place to reveal 4 sockets - USB, micro USB and USB C, plus a pull back rubber cap to reveal a screw-in connector with an (included) extra USB output meaning you can charge multiple devices at the same time. To turn on the battery simply plug in an external device and it begins automatically. Alternatively, if you want to see what charge it has without connecting anything there's a power button. Press this once and a bank of tiny blue LEDs lights up 4 for full power, 3 for 75%. 2 for 50% and 1 for 25%. Long press the power button and there's a small LED light built into the pack so you have a torch to hand. One handy feature is the facility to clip it to a rucksack or harness.

The smaller battery pack is a very handy size and lived in my pocket for most of the trip. It has a single USB out and a single USB in socket in one end, and a button on one side for turning on. To check its status press the button and a small panel displays the percentage of the battery left. It is about the size of a packet of sweets, and fits comfortably in the hand. It weighs 75g.

Finally, there are the lights. The torch is a really neat feature. It's a super bright single LED unit which has no attached battery pack. As a result it, weighs virtually nothing, and takes up no space. To work it you simply plug it into any USB socket on any battery pack. It has a single button to turn it on and off (there are three 'on' modes: half power, full power, strobe). You can also twist the head to zoom / spread the beam. There's also a 300mm long flexible connector if you want to set it up as a static light in a certain direction. It's a very neat bit of kit. The two included light panels are around 90mm X 40mm X 12mm, with an array of 28 LED bulbs in each one. The panels are on the end of a 300mm long flexible connector so you can hook up to a battery pack and either stand it or hang it in place before then adjusting the connector to point the light where you need it. The panels have a switch on their reverse to turn them on and off (just one setting). Note that the battery pack may need to be turned on before the light will work if it is connected when in the off position. The lights and their connectors weigh 175g. I like the fact that by using these torches I'm not then having to recycle my batteries, and it's a lot more convenient to charge the power packs than to charge up rechargeable batteries too.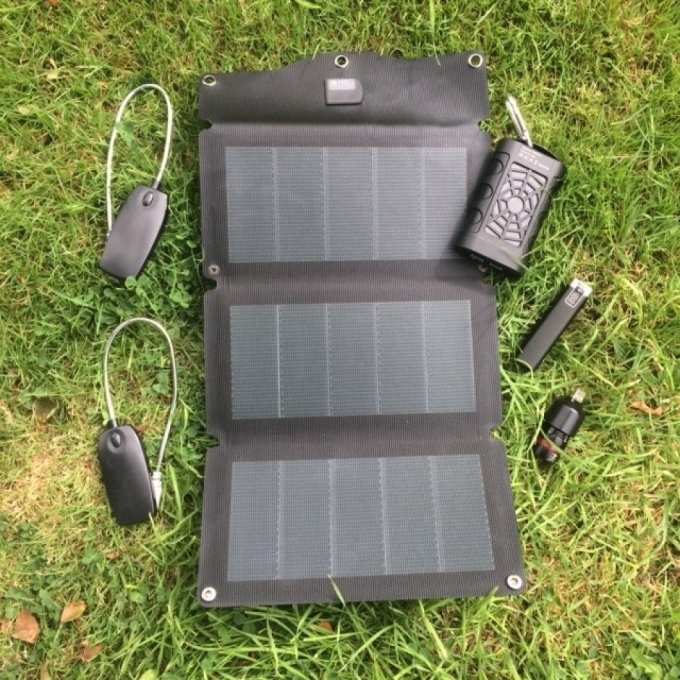 The 10W CIGS panel with the bundled light panels, torch and battery packs.


The clips and other connectors weigh a further 50g bringing the total weight to 845g.

OK, that's a description of the actual kit and how it works. How about its performance?

The weather we had was a mixed bag. We had a fair amount of cloud as well as some great Mediterranean sunshine so it was possible to test out the solar panel in a range of conditions. As you'd expect, the sunnier it was the quicker it charged things up. I used the smaller battery pack as a test, as well as my iPhone 6SE. It charged them both, in sunny conditions, in well under 2 hours. The iPhone (capacity 1,264 mAh) took just under an hour. On the days when the sun didn't come out, but there was ambient light, it took most of the day to charge them. Back home I've been testing it out in much colder conditions, on shorter days, and find that again, in the sun, they will charge in around 2 hours or less, but when the sun disappears, and the rain / sleet comes, there is virtually no charge to be had. Perhaps not surprising, but it needed testing. What I would say is that it's worth having the panel out on a poor day, as when the cloud does thin or lift even for a brief time, it works immediately. The larger power pack would charge in a day in nice Croatian sunshine, but it did take the full day. In summary, I've had a couple of solar chargers in the past, but have always been very disappointed in their effectiveness, particularly in our climate, but this one is a clear step up, offering a genuine method of charging your devices on the move. It's lightweight, powerful, and will be heading on all my future trips, whether to sunny Croatia, or moody Scottish sea lochs. When combined with a decent power pack it's possible to charge your devices at any time of the day or night.

Note that there are 13W and a 20W panels available which would be a worthwhile investment if using in the UK or commonly cloudy environments.

You can buy the bundle, or the individual elements at Mobile Solar Chargers.