Edelrid Crocy Oasis Kids Climbing Shoes
It's all too common to see young kids climbing in a pair of trainers. The common thinking seems to be that kids feet grow so quickly that it's not cost effective to buy specialist shoes as they will soon grow out of them. Given the fact that at one point I was going through three or four pairs of climbing shoes in a year I don't think that this is much or an argument and if we want our kids to enjoy and progress at climbing, then we need to equip them properly. In reality I've found that a pair of climbing shoes will last one of my boys at least a couple of years, and they are then passed on to his brother.
So, the Crocy Oasis is his third pair of shoes and I'd argue, the best. It's hard to make an argument for the precision fit / toe etc of the shoe as he is still learning to control his feet, but they certainly smear well. The double Velcro pull straps which hold the shoe on open up nice and wide to make getting them on and off super easy. The downside to their generous nature is that they are difficult for him to do up tightly so I usually have to help to get them nice and snug. As his feet grow and he becomes more used to them I am sure this will change. Talking of growing I like the extendable heel in that it means that the shoes should last a bit longer (the blurb says it will allow for 2 whole shoe sizes in growth. The downside to this is a lack of precision in the heel, and definitely no proper heel hooking as they just slip around / off.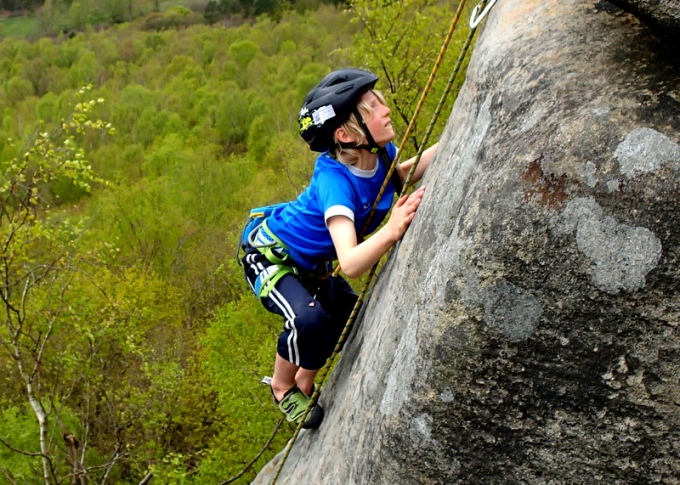 They are nice and light, they look great, and they retail at £35 which is just on the edge of how much I would consider spending on my kids' shoes. They come with a nce (well made) crocodile key ring which is a nice touch and well appreciated by my boys

Website Description:
Flexible hinge patch in heel area expands two whole sizes
Pull straps for child-friendly entry and exit
Soft sole helps train coordination and precision
Name plate at heel
Includes a small surprise
Technical Spec:
Weight (g): 245
rubber : E-Grip Solid
Interlocking System : Velcro
Vertical Shape : flat
Asymmetric : low
Heel : comfort