Trousers: Srayway Torino Pant
I have been reviewing a few of Sprayway's new Bamboo range so was expecting something quite different from the Torino Pant when they arrived. At first I returned them for a larger pair as the material felt quite restrictive, but when the next size up arrived I realised that these trousers are just not as soft or elastic as other items in the range and the restricted feeling was not to do with the size. Luckily the trousers are quite adjustable with a popper alteration on the waistband so off I went to review.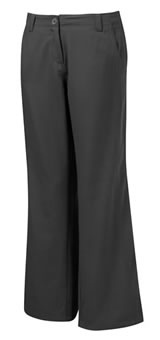 I have worn these trousers a lot for everyday use and more strenuous activity and have been pretty impressed by the high wicking, quick drying material. The trousers are certainly well made and durable and hold their shape well. There are also quality features such as the button being attached by a short tape, which keeps the line of the trouser cut and is easier to fasten. However, I have found them restrictive, and often have to pull the knees up when I bend over. I can't imagine riding a bike in them. The problem might just be that the Torino pant and I are incompatible shapes but it could also be the material. Also, I am sure the Torino pant will look good on someone, but that person is not me.
More Sprayway Bamboo Clothes Reviewed
Men's:
Women's