Book: Ron Fawcett ?Rock Athlete? by Vertebrate Graphics
Ron Fawcett was the finest British climber of his generation, overlapping both Pete Livesey's reign of the 70's and Jerry Moffatt's rise to stardom during the 80's.
Starting life as a shy hard working young lad, from the small and sleepy Yorkshire village of Embsay, from an early age Ron began exploring his local crags, cutting his teeth on the likes of Crookrise and Gordale. It seems that he had no expectations, intentions or even desires of becoming an international superstar, but with his outstanding ascents throughout the world, over the next two decades, that is exactly who he became.
Whilst Ron is recognised as Britains first ever 'professional rock climber' his uneasiness with some aspects of this lifestyle clearly shine through in the pages of the book, and it is with great thanks to Ed Dougls that this book came into fruition, with endless hours spent chatting to Ron, attempting to glean inside information on so many aspects of Ron's adventurous, fascinating and at times troubled life.
Whether due to Ron's shyness, or his faded memory of some of his climbs, 230 pages feels a disappointingly short read. But such is Ron's character that he has presumably offered as much as he is happy for the world to know, and we should be grateful to have any book at all.
Having only started climbing properly myself after Ron had completed is last significant ascents, notably the super classic arête, Careless Torque, still now one of the most coveted prizes on gritstone, I hadn't had the pleasure of regularly reading about Ron and his achievements in the climbing press or elsewhere. So when reading his book I learnt a great deal about his climbing and motivation; the endless hours spent training, his interest in travelling to new places, and his unwavering love of nature and being in the outdoors. I also learnt a few of the more obscure details - like the fact that he no longer eats black Jelly Babies because they hamper his breathing and make him wretch!
The varied and numerous photos give a great historical account of some of Ron's climbing achievements, as well as his life in general, from his family upbringing to the more recent bringing up of his own family, and his introduction into the world of fell running.
The list of Ron's 100 solo's in a day, towards the back of the book, would cause even today's more experienced gritstone climbers a little quaking in their boots, especially if asked to climb the revered Curbar classic 'Ulysees or Bust' as their last route of the day…
As well as his magnificent list of routes, many of which have attained iconic status in British rock climbing, Ron is perhaps best known for a famous quote, whilst being filmed climbing Lord of the Flies for the ground-breaking tv series Rock Athlete. Any climber, of any generation, if in a spot of bother, could do a lot worse than to repeat Ron's mantra;

"come on arms, do your stuff"
Reviewed by Ben Heason
Retails at £20 - Vertebrate Graphics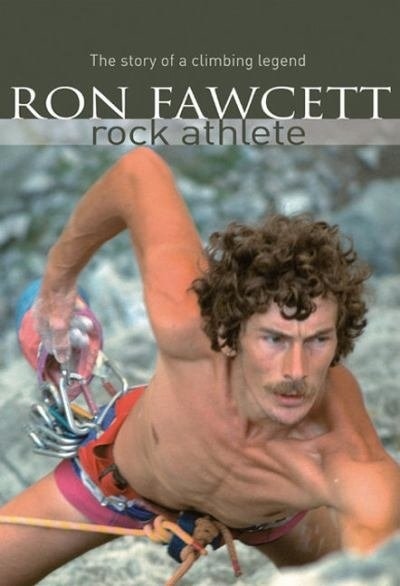 Here's a list of some of Ron's more notable achievments:
1955
May, 6 Born Ronald Norman Fawcett in Embsay, West Yorkshire
1969
Introduced to roped climbing at Rylstone Crag by Arthur Champion, with an ascent of Dental Slab S 4a
1971
First recorded new route, Problem Wall (E2 6a) at Malham Cove, climbed solo.
1973
First visit to Verdon Gorge with Pete Livesey and friends, aged 17. Free ascents of Triomphe d'Eros (F6c), Solanuts (F6c) and Necronomicon (E4 6b, F6c).
1974
Second trip to Yosemite, again with Livesey. Made first ascents of Crack-a-go-go (5.11c), The Cookie Cliff, and Bircheff-Williams (5.11b), Middle Cathedral. Also made an early ascent of Astroman (5.11c), Washington Column.
1975
Near-free ascent of Cave Route Right-hand, Gordale Scar, Yorkshire, with Livesey.
1976
FFA of Liberator (E3 6a) at Bosigran with Livesey.
FFA of Cream (E4 6a) with Livesey during BMC International Meet.
FA of Cream Team Special (E5 6b), Raven Tor, with Geoff Birtles and Al Evans.
FA of Supersonic (E5 6a), High Tor, Derbyshire.
FA of Slip'n'Slide (E6 6a), Crookrise, Yorkshire. Arguably the most serious gritstone climb in Britain at the time.
1977
FFA of Void (E3 6a). Early attempt on Strawberries.
FFA of Citadel (E5 6b), Gogarth.
1978
FFA of Milky Way (E6 6b), Ilkley, Yorkshire.
FA of Desperate Dan (E6/7 6b), Ilkey.
FA of The Cad (E5 6a), Gogarth, Gwynedd. Controversially places two bolts, which are later removed.
1979
FA of Lord of the Flies (E6 6a), Dinas Cromlech, Gwynedd.
1980
FA of Strawberries (E6 6b), Tremadog.
FA of Atomic Hot Rod (E5 6b), Dinas Cromlech.
FFA of Dinosaur (E5 6b), Gogarth.
FA of The Big Sleep (E6 6b), Gogarth.
FA of Psycho Killer (E6 6b), Clogwyn Du'r Arddu.
1981
Visits Frankenjura, making FFA of The Blue Roof.
FFAs; Cave Route Left-hand (E6 6c), Cave Route Right-hand (E6 6b). Gordale
1982
FFA of Indecent Exposure (F7b+), Raven Tor
FFA of The Prow (7c), Raven Tor
FFA of Body Machine (F7c), Raven Tor,
FFA Scritto's Republic (E7 6b), Millstone, Derbyshire.
FAs in Pembroke: Stennis the Menace (E6 6b), Yellow Pearls (E5 6b) and Boss Hogg (E6 6b).
1983
FA of Master's Edge (E7 6b), Millstone, Derbyshire.
1984
FA of Mescalito (F7c+) and New Dawn (F7c) at Malham Cove, and Defcon 3 (F7c+) at Gordale.
Fast repeat of Revelations (F8a+, FA: Jerry Moffatt, 1984) at Raven Tor.
1985
FA of Zoolook, the first F8a at Malham.
1986
Solos 100 gritstone Extreme-grade routes in a day near his home in Derbyshire.
FA of Toy Boy, Froggatt (E7 7a)
1987
FA of Careless Torque at Stanage, one of the first Font 8a boulder problems in the UK.
FA of Moon Madness, Curbar (E7/8 6b)