Berghaus Expedition Light 80 Rucksack
I remember the days as a teenager, hefting stuff around on overnight camping trips in Scotland, Wales, Spain and even Greenland. There was a fair amount of stuff to carry - sleeping bag, foam mattress, tent, stove, clothes, food, water etc. Most of the kit was pretty bulky and heavy. We'd spend time trying to minimise what we carried, but rarely gave any thought to the actual bag in which it was to be carried. I had a whopper of a bag, an old pink and purple VauDe. It was a fantastic sack with a fully adjustable plastic frame back system. You could strip it down too its constituent parts and needed tools to do so. It was very exciting, and carried everything I needed. But I look back on it now and realise that it weighed a tonne! Well somewhere around 3kg in fact, maybe even more. That's a lot of weight for the actual bag.

The Berghaus Expedition Light 80 is just as big, but weighs in at 1.5kg, and goes down to 1kg if you strip off one or two bits. It's really quite an exciting pack and would have had my teenage self salivating!
The spacious lid detaches easily with a couple of plastic clips. It features a large zipped outer and a smaller zipped inner pocket (with key clip) and a bungee on the top. Sadly the thing doesn't really convert into a practical bag that is wearable in any comfortable manner, but would do as a hand-carried day bag. Once the lid is removed, the main body of the bag can be used (i.e, closed) independently as there are two additional plastic clips on the extendable sleeve, that allow you to roll things closed and synch things down tightly. If you combine this closure method with the two compression straps on each side, it is possible to pack the sack with minimal stuff and still walk / run with it without things rattling around. If you go one step further and open up the Velcro strip along the top, inside, the plastic, foam and aluminium back plate slides out to lower the weight even further. Once removed, the bag is not much more than a sack with some straps and minimal padding on the back, plus a waist belt. With the Extension sleeve fully extended it measures around 1.2m so could be used as an emergency shelter for kids or for the lower half of your body. It weighs just 1kg win this stripped down, but highly usable state.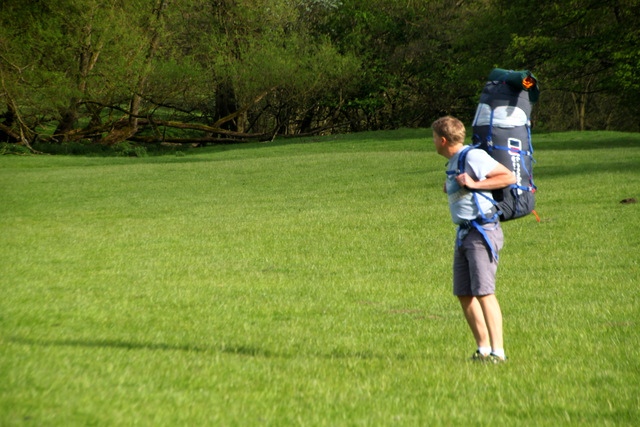 The sack itself is ripstop and incorporates Dyneema so should last a good while - it's showing absolutely no signs of wear and tear yet - despite its light weight.
It features a water bladder pocket inside with an opening for a tube. There's another elastic bungee on the front, as well as two ice axe attachment systems, a daisy chain arrangement of sewn sling material, and importantly (no idea why so many modern packs don't include these) pockets on the side to hold ski ends, poles, rubbish and other bits and pieces.

The pack has been used now on a number of wild camping overnighters and easily swallows our tent, 4 sleeping bags 4 sleeping mats, stove, bowls, clothes etc. It sits pretty high, especially when fully loaded with the extension sleeve extended, and the lid in place, which can take a bit of getting used to. Comfort wise I've certainly carried more comfortable sacks in the past, but these have always been twice as heavy so it's debatable whether it's worth the extra weight...

It retails at £170, but is available for a reasonable amount less than that (around £130) if you go looking. Well worth while if lightweight it your goal.