Adidas Terrex Solo Approach Shoes
Introduction
It took a while, but the acquisition of Five Ten by Adidas has finally resulted in some Adidas shoes carrying Stealth rubber. The Terrex Solos are the first of these that i have had the pleasure of trying out.
Designed For Climbing
They are reasonably light weight pair of shoes at 920g (pair) designed very much with rock climbing in mind. The sole is fairly smooth, with a diamond pattern for about 90%, no in-step, and a perfectly smooth section at the front to enable climbing on slabs almost on a par with actual climbing shoes. The toe box is contained within a squared-off rubber rand that not only protects the toes in scree, and whilst crack climbing, but provides a decent about of additional grip, and sits comfortably on small, positive holds. The heel rand projects backwards like some miniature ski slope, and is designed this way to make steep descents safer as the shoe contacts the ground sooner. Lastly the pull loops are located asymmetrically which means that you can attach both shoes with a single karibiner to your harness and have them hanging neatly rather than splayed apart. One curious feature is the sculpted tongue which feels like it may have some rubber in it too! It sits comfortably on the top of my foot, and never, ever slips to one side as it has a rigid structure to it. Initially I was a little wary about this, but I've grown to like it. My pair are blue and look great; much less like a fancy walking boot, and more like a cross between a trainer and a climbing shoe.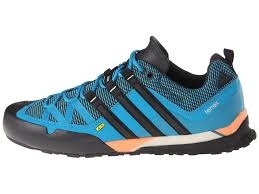 How Did They Fare?
In use I have some very mixed experiences. I took them with me on a trip to Croatia where I used them for scrambling and basic bouldering around where they excelled. I even managed a 3 hour run in them with no adverse effects.They accompanied me on a 2.,5 week trip cycle touring around Denmark and were very comfortable and practical. I cycled without toe clips and the rubber stuck to the pedals very well indeed. The key to their performance in Croatia and Denmark was that the place was bone dry. Back home they've been less impressive. Fantastic for boulder-hopping along the top of Stanage Edge, but take them anywhere near any wet grass and they become lethal, the smooth toe patches proving no match for the slippy surface. Trying to walk up a grassy hill is comical.
In Summary

They retail at £95 which is about standard for a decent pair of approach shoes. I love them to bits, but am careful where I wear them.
More Info
Adidas Website