I'd heard mixed reviews about Sealskinz socks. Some said they work, some said they don't. Essentially the are waterproof socks. They keep the water out by means of a Goretex-like membrane which (, crucially given the fact that feet sweat so much, let perspiration out. That's the theory. I'd been happily trotting and cycling along without them until earlier this year when I had a conversation with a seasoned fell runner who had previously run the same ultra-marathon that I was about to attempt. The High Peak Marathon is 42 miles long, with large sections of it in peat bogs where it is impossible to keep dry. It takes place at the end of February when temperatures up high are below zero and you're highly likely to encounter snow and ice, so I was more worried about getting cold feet than wet feet. I figured that they'd be much more likely to get cold if they were wet so asked around some fellow runners what their approaches were. Sealskinz with a warm pair of socks underneath was the consensus so I gave t a whirl.
If you've never worn a pair of Sealskinz then it's quite an odd sensation putting them on for the first time. The internal membrane that perform the magic has a stiffness to it that compares to a lightweight waterproof jacket. It feels like putting on three pairs of socks at the same time. They certainly aren't as outright comfortable as a nice pair of cushioned running socks, but neither are they in the least bt uncomfortable, they just feel a little odd. I ran the race in them, with a warm pair of regular running socks underneath and can attest to the theory that it works. My feet stayed warm throughout the 12 hour ordeal. I'd be telling an untruth if I said that they stayed entirely dry, but when I removed both pairs of socks at the end of the race there was no wringing out of my socks, but my feet did look like they'd been in a bath for too long. To be fair I don't believe that there is a technology in the world that would keep your feet perfectly dry for 12 hours of running through peat bogs in the rain, so I was pretty happy with the combination. If there was one downside it was probably the fact that over time there was a small amount of slippage of one layer of the sock over the other, but this was fairly minimal and didn't result in any creasing or folding which would have led, in turn, to blisters.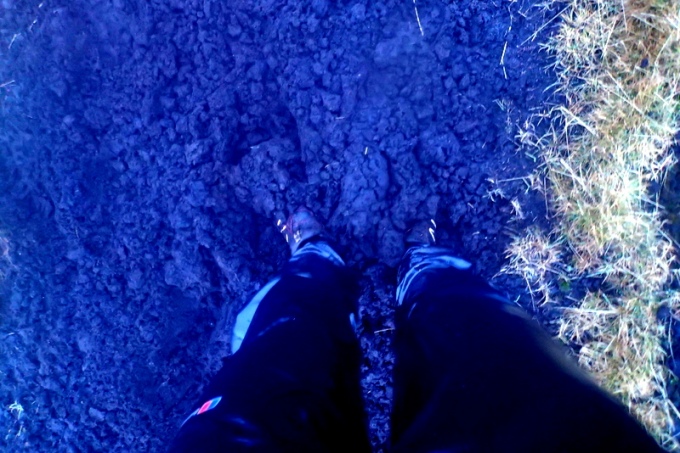 Typical conditions on the High Peak Marathon.
Aside from the big run I've worn them on a number of other occasions, once cycling 130 miles back from the Lake District to the Peak District - the last 2 hours of which was in the rain and - and on some general fell runs, including across the bogs to Corrie Lagan on Skye. I have two different pairs of the socks, one thin and one medium weight. I wore the thin ones on the High Peak Marathon in order to be able to wear the second pair of socks, but have worn the medium weight ones on the other occasions. So far they've worked admirably well and I'd recommend them, particularly if you are worried about the cold. I do wonder how long the membrane will last with regular use, but have no complaints thus far.
They are also totally windproof which also helps to keep the feet warm.
They retail at £32 for the mid and £37 for the thick (I went for mid-length, but they also come in short and long). Quite pricey for a regular pair of socks, but very little for the cost of warm and dry feet on events like the HPM. You can buy them directly from the Sealskinz website.