Inflatable Kayak - Advanced Elements Convertible With Double Deck
Introduction
We are a family of 4 and recently had a week on the Isle Of Mull of the West coast of Scotland. Armed with a 2 person inflatable kayak purchased from Decathlon a few years back it was clear that we wouldn't all be able to safely fit in, and that we would need another craft if we were to head out together. Enter the Advanced Elements Convertible Kayak.
It's hard to beat the manufacturers blurb when introducing this beast:
The AdvancedFrame Convertible kayak is a fifteen foot kayak that can be paddled solo or tandem. Supplied with the new version single and double decks are included and allow you to convert your AdvancedFrame Convertible kayak into a solo or tandem kayak in a matter of seconds. This design incorporates the rigid bow and stern frame with the versatility of interchangeable decks.
Inflating
Laying it out on the grass by our tents it was immediately obvious that this was a heavy duty boat built to last - the actual one that we had had been due to be shipped out to Greenland on an expedition - I've been to Greenland a couple of times and would not poke around amongst the ice bergs in water barely above freezing in just any old boat!). The basic construction is similar to the Decathlon boats - a kayak shaped donut made of heavy duty rubberized material that is inflated inside a heavier duty sleeve with a smooth bottom. However this boat differs in a number of ways. First and foremost the inflatable donut is split into two chambers all the way around meaning that if one were to puncture, the other would keep the boat afloat and in its correct shape - most cheaper boats simply have a left chamber and a right chamber (or should that be port and starboard?). It's a subtle feature, but a very safe one.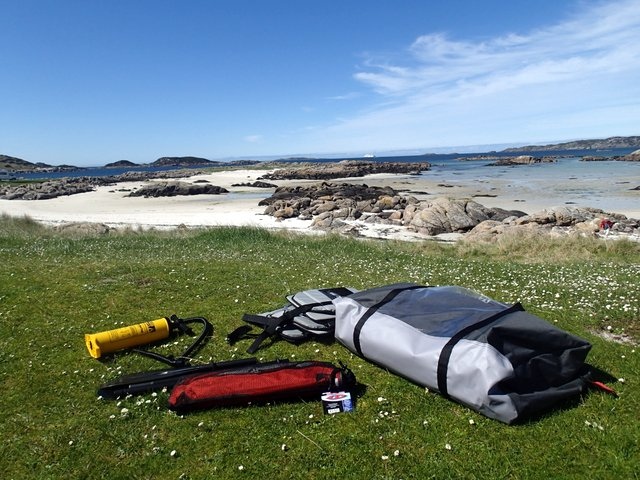 At the front and and back are metal stays which fit inside the
In addition this boat has a removable, inflatable floor, accessed via a different type of valve than the main chambers; the smaller valve is on the end of a short hose meaning that it's possible to manually top up the base if necessary by mouth without groveling around in the bottom of the boat. Once the main chambers and the base are inflated (to 2Psi and 1Psi respectively - if you don't have a pressure guage to hand and you are not sure what 1 Psi is, then you ought to be able to press down on the floor of the boat and feel resistance, but just be able to press through the resistance to feel the floor underneath) - there are a few whistles and bells. Firstly the seats - these are initially held in place by Velcro, but two straps and buckles per seat mean that you can adjust the inflatable backrest to the angle that suits (inflated va the same style tube as the base so easily adjustable on the go). There is an nflatable thwart which is simply wedged between two large Velcro pads and provides the craft with some added stability (again inflated by the same style tube). And then there is the deck. In our case we used the double deck, but it's possible to use a single one, or even do without one altogether. The deck simply zips onto the kayak via a very heavy duty zip on each side. Once on there are two inflatable panels at the front, accessed via the same style extension tube, which raises the front deck by two or three inches and creates a nice taught surface on which to store kit underneath a bungee cord. There are also circular inflatable beams around each 'hole' in the deck meaning that you can fit a spray deck around each person sitting in the boat, pretty neat for an inflatable in my opinion.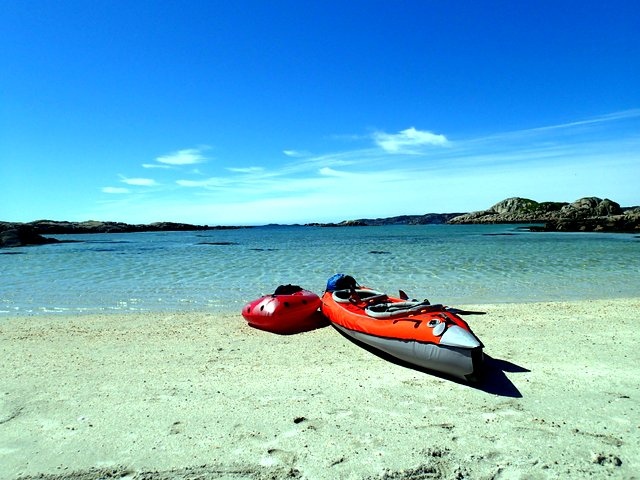 Stability, Manouvering and Passage
As with most canoes and kayaks it take a little getting used to the fact that you can sit in it, lean to one site, and the boat tips alarmingly, but doesn't roll over. It's a pretty wide boat which gives it great stability. Not once in a week of use did we come anywhere close to tipping it over. Along the base is a small rubber fin which acts as a basic keel. This is about 3 inches deep, and about 6 inches long. The issue with it is that it bends over when the boat is folded and retains this bend when inflated. That said it didn't make any noticable difference to the line of the boat which the video below indicates is straight as an arrow. On the same trip as us were a bunch of other families with other inflatable boats. None of them was a match for the ease with which ours passed through the water. When it comes to manouvering it around it has to be remembered that we are alking about a 25kg 12foot long boat here. The fact that it holds a straigh line incredibly well means that it takes a little effort to turn the thing around in a hurry, but with two competent paddlers it's pretty straightforward. On one of our trips we had to make a 500m portage over an isthmus at low tide. It's a pretty heavy boat to carry for such a long distance and would have required two trips had we been carrying any amount of luggage. There's a carry handle at each end, but we found that it was also comfortable to wrap an arm around the point of the boat itself from time to time.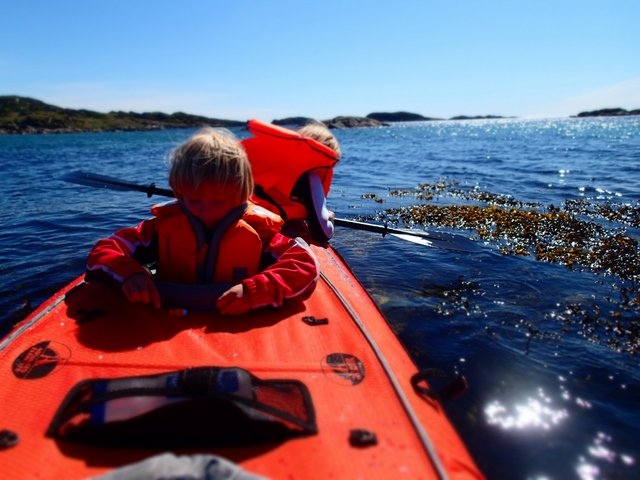 It was easy enough to fit a 5 and an 8 year old back to back in one of the seats.
Other Features
There are a couple of Velcro straps on one side of the boat for storing a spare paddle. There are also various elasticated ropes and toggles for stowing dry bags on the deck elements. Used as a one person boat there would be ample under-deck storage space, but with two adults inside this space was limited, with most of the kit needing to be above deck. There are net pockets in the back of the seats which means cameras (waterproof of course!) and other regularly used bits and pieces can be stowed close to hand.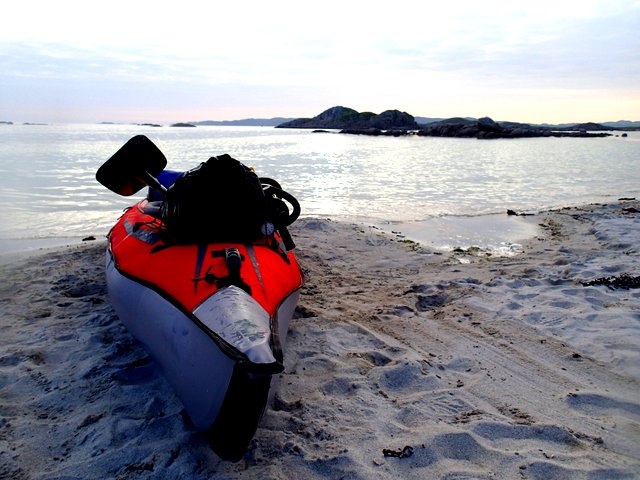 Deflating
Deflating is straight forward. Unscrew the caps off the two main valves and press in the valve and out comes the air. You can roll the deflated canoe (once you've removed the seats, floor and thwart) and expel the air in the same way you would an inflatable sleeping mattress. Then for the last bit simply re-attach the pump and turn it to deflate, to remove any excess air and leave it almost vacuum packed! Do the same with the inflatable seats, floor and thwart, and the lot packs into the large carry bag without any fuss.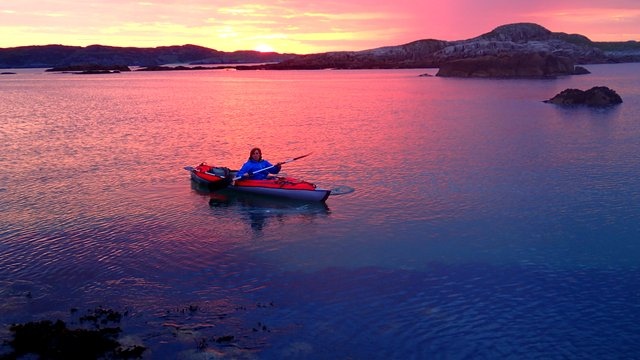 General Comments / Summary
In a week of regular use off the coast of Mull the 3 layers of material show virtually no sign of wear and tear. It also comes with a repair kit. Essentially we were able to make a side-by-side comparison with a variety of cheaper inflatable kayaks of a similar size and this one came out on top in every way. It was safer thanks to the double compartment in the hull; it was faster and smoother to paddle thanks to the aluminium ribs, the skeg, and the general rigidity of the thing once it was inflated; it was more comfortable thanks to the well designed adjustable seats. Granted it cost more money, but what's a couple of hundred quid when it comes to a) your safety, and b) years of easier paddling?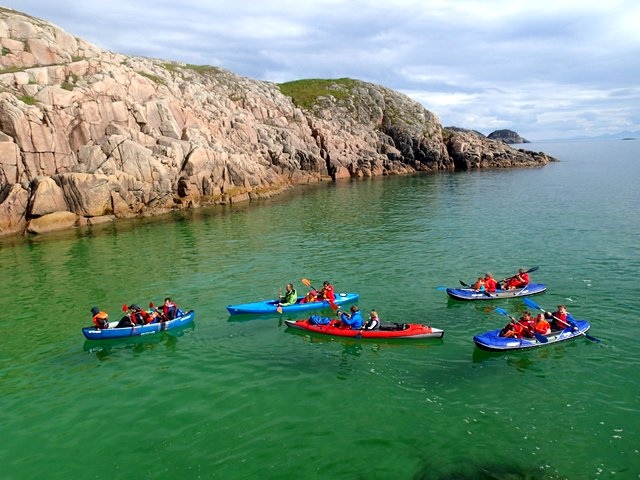 Compare and contrast the shape of the boat with the other inflatables in the flotilla (note the middle blue boat was a rigid fibreglass affair)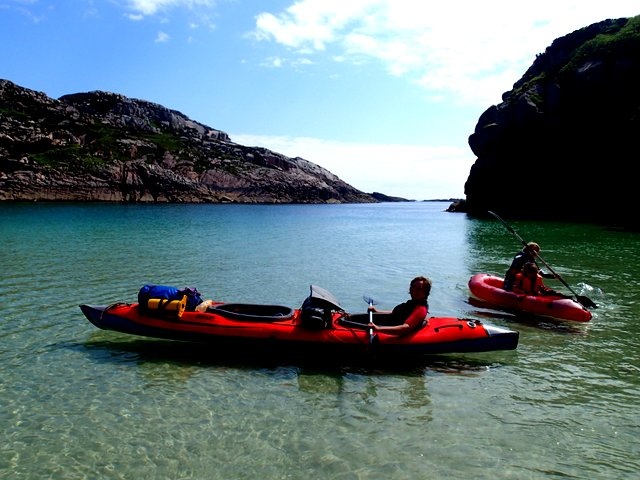 Deck laden with bags and the boat still rides high on the water.
More info available here:
http://www.advancedelementskayaks.co.uk/product.php/602/advanced-elements-advancedframe-convertible-kayak-with-new-version-single---double-decks
Package Includes:
* AdvancedFrame Convertible kayak.
* New version single and double decks.
* Carrying bag.
* Repair kit.
* Manual.
Key Features:
* Hull design - Built-in aluminium ribs define the bow and stern and improve tracking.
* Durable - 3 layers of material for extreme puncture resistance.
* Easy to set up - Preassembled at the factory. Simply unfold, inflate and attach the seats.
* Comfortable - High support, adjustable padded seats provides comfort for hours of paddling.
* Versatile - 3 seat locations allow for paddling solo or tandem.
Features:
* New advanced inflation valves.
* 2 Adjustable padded back supports.
* D-ring tie downs.
* Moulded low-profile rubber handles.
* Reinforced bow and stern seams.
* Durable double-coated fabric.
* Paddle holders.
* Skeg tracking fin.
* 6 Chambers.
* Deck lacing for quick access to gear.
* Rip-stop nylon fabric (red/grey model).
Specifications:
* Length: 460cm.
* Width: 82cm.
* Weight: 25kg.
* Max capacity: 249kg (39 stone).
* Packed dimensions: 93cm x 55cm x 31cm (approx.).
* Colour: red/grey (rip-stop nylon).
Accessories Included:
* New version single and double decks.
* Carrying bag.
* Folding seats (standard seats supplied).
* Repair kit.
* Manual.
Shipping Dimensions:
* Boxed shipping size: 93cm x 55cm x 31cm.
* Shipping weight: 30kg.